🔥NEIMAN! A hot mess part 1🔥
It's over folks: it's only September and the race for "PETITION's Case of the Year" is all but wrapped up. If another case comes along and, somehow, some way, overtakes Neiman Marcus Group LTD LLC, we've got some BIG problems. Buckle up…
---
⚡️Update: Neiman Marcus Group LTD LLC⚡️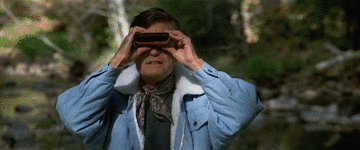 We're inching towards Q4 '20 and — holy f*ck balls! — this year has been absolutely bat sh*t crazy. Consider everything that has happened already so far:
In Q1, we saw a wave of mass tort cases, many of them "asbestos AF" — yes, asbestos is still a thing — but also others, unfortunately, stemming from deplorable actions by degenerates in positions of authority (e.g., the Catholic Church and Boy Scout of America). In addition to the usual roster of oil and gas, coal, restaurant and retail bankruptcies, there was a wave of ill-timed grocery bankruptcies ("if only COVID had hit earlier," likely said some sick motherf*cker somewhere). Strangely, the most notable chapter 11 filings all took place around Valentine's Day: The McClatchy Company, Pier 1 Imports Inc. and Boy Scouts of America. Because nothing quite says "love" like child abuse.

The April 1 bankruptcy filing of Whiting Petroleum Corporation showed that the only fools out there are people who continue to invest in oil and gas. It also ushered in a wave of massive Q2 bankruptcy filings. See, e.g., Frontier Communications Corporation. Frontier, however, was just the tip of the iceberg. The deluge of multi-billion dollar failures wouldn't come until May.

And boy did it come. Chino's Holdings LLC (J.Crew) and its $1.99b of debt. Neiman Marcus Group LTD LLC and its astounding $5.1b of debt. Aviana Holdings SA with $5.4b. Intelsat SA, a staggering $14.8b. Ultra Petroleum Corp. with a second filing and $1.97b of debt. J.C. Penney Corp. with its $4.9b. Centric Brands Inc. and its $1.77b of debt. Hornbeck Offshore Services Inc. $1.195b of debt. And, for the time anyway, the wildest of all: The Hertz Corporation. $18.75b of debt. June followed with even more volume and some additional big names like 24 Hour Fitness Inc. ($1.4b), Technicolor S.A. ($1.57b), GNC Holdings Inc. ($903mm), CEC Entertainment Inc. (Chuck E. Cheese)($1.09b), Chesapeake Energy Corporation ($9.1b) and Grupo Aeromexico S.A.B. de C.V.

Entering its final month, the number of big cases is down sharply in Q3. Nevertheless, there are notable cases. NPC International, for instance, showed that even pandemic-induced comfort-food-binges couldn't keep Pizza Hut out of bankruptcy. All of the acrobatics in the world couldn't keep Cirque out of a proceeding. Brooks Brothers Group Inc. got its collar popped. California had a rough month with both California Resources Corporation and California Pizza Kitchen melting their way onto bankruptcy court dockets. Briggs & Stratton Inc. got mowed down. Ascena Retail Group Inc., Noble Corporation PLC and Tailored Brands Inc. (Men's Warehouse) all got FOMO and joined the debtor club.
Given all of that whiplash-inducing activity, it was easy to lose Neiman Marcus in the shuffle. That is, in part, because Neiman creditor drama has been around for two years: the trail of Neiman manure started hitting the pavement back in Q3 2018 when the company announced its wildly controversial "asset-stripping" transaction. The general premise was that the company's private equity sponsors, Ares Management LP and the Canada Pension Plan Investment Board, created a new legal entity and stripped-out and dumped Neiman's most valuable asset — e-commerce platform MyTheresa — into the new entity and out of reach of Neiman's junior creditors in a cynical and diabolical ploy to enrich themselves. Here (paywall) is what we wrote about it at the time. Almost immediately, one junior creditor, Daniel Kamensky's Marble Ridge Capital, blew a gasket and starting lobbing highly public grenades at the company, Ares & CPPIB, and the company's advisors. Litigation asserting "fraudulent conveyance" followed.
When Neiman actually did file for bankruptcy five months ago it was sandwiched between the J.Crew and J.C. Penney filings which, capital structure notwithstanding, both had much bigger implications for malls and the retail industry in particular. After all, Neiman Marcus has but a tiny fraction of the retail locations of those two behemoths. Given those factors, in the scheme of things, Neiman Marcus seemed but a pimple on the a$$ of the #retailapocalypse.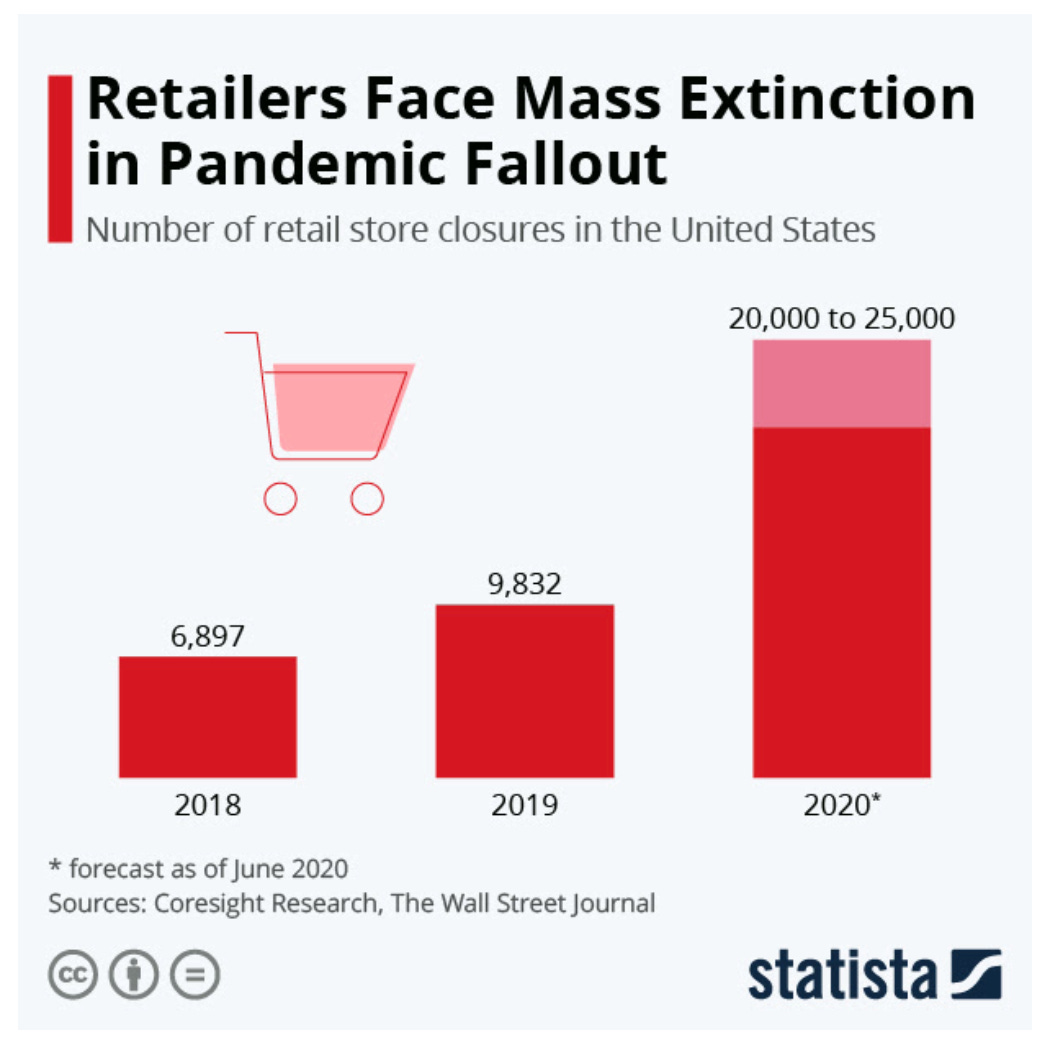 It ended up punching above its weight. Aside from (maybe?) Hertz' well-documented dip into the cynically opportunistic world of "efficient markets," Neiman Marcus has become this year's biggest sh*t show. And it isn't even close.
*****
At the time of Neiman's chapter 11 filing, we acknowledged that it was, in fact, a BIG case. We wrote:
Dallas-based Neiman Marcus Group LTD LLC, Bergdorf Goodman Inc. and 22 other affiliated entities (the "debtors") filed for chapter 11 bankruptcy in the Southern District of Texas late this week. For an explanation why aside from the obvious pandemic-related narrative, look no farther than this monstrosity:

A quick reality check: that ⬆️ $5b capital structure isn't supporting an international enterprise with thousands of physical stores. Rather, it backs merely a 68-store business (43 Neiman Marcus, 2 Bergdorf, 22 Last Call). Gotta love the good ol' $5b leveraged buyout.

This case is all about "BIG."

A BIG capital structure stemming from a BIG LBO by two BIG PE funds, Ares Capital Management and CPP Investment Board USRE Inc.

A bunch of BIG brands with BIG price tags that require BIG amounts of capital.
We continued:
A BIG, complicated — and controversial — series of multi-year re-designation and asset stripping transactions that were part of the debtors' (and now non-debtors') elaborate strategy to restructure out-of-court by reconfiguring the corporate organizational structure and balance sheet and kicking the can down the road. This history of "asset stripping" — the hottest technology of the last few years — is undoubtedly going to stir a BIG fight in the case.
And BIG value destruction.
Here is what will happen to the pre-petition capital structure under the proposed term sheet and restructuring support agreement memorializing the debtors' proposed deal — a deal that has the support of 78% of the debtors' term lenders, 78% of the debentures, 99% of the second lien notes, 70% of the third lien notes, and 100% of the private equity sponsors:

All of that red represents this:
The Asset-Based Revolving Credit Facility and FILO Facility will get out at par. Beyond that? All that red constitutes heaps and heaps of value that's now essentially an option. It's a bet that there is a place in the future for brick-and-mortar luxury department stores when there is a significantly de-levered capital structure (by ~$4b) with a footprint concentrated among where 70% of the nation's wealthiest people live (at least pre-COVID … if certain predictions take hold, there is going to be a mass urban exodus in which case that percentage may not hold … a potential headwind). Pursuant to the deal, the "Extended Term Loans" will get the lion's share of equity (87.5%, subject to dilution). The rest of the capital structure will get small slivers of reorganized equity. General unsecured creditors will get "their pro rata share of a cash pool." The private equity sponsors will get wiped out but for proposed liability releases that are sure to draw some ire from unsecured creditors.
Suffice it to say, a number of parties-in-interest looked at that restructuring support agreement and the slate of "independent managers" placed to investigate the asset stripping transactions (and the then-proposed DIP financing) like:
Big drama ensued at the first day hearing. We wrote:
The hearing also foreshadowed another contentious issue in the case: the myTheresa situation. The Debtors' position is the following: "The '17 MyTheresa designation as unrestricted subs + the '18 distribution of the myTheresa operating companies to non-debtor Neiman Marcus Group Inc. (a/k/a the "asset stripping" transaction) + a '19 wholesale amend-and-extend + cost-saving initiatives + comparable same store sales growth for 7 of 10 quarters + "significantly expanded margins" during the holiday period = rocket ship future growth but for the damn pandemic. On the flip side, Marble Ridge Capital LP takes the position that:

…the Debtors' financial troubles were entirely foreseeable well before recent events. The Company has operated at leverage multiples more than twice its peers since at least 2018 (prior to the fraudulent transfers described herein). And last year's debt restructuring increased the Company's already unsustainable annual interest expense by more than $100 million while only reducing the Company's debt load by $250 million leaving a fraction of adjusted EBITDA for any capital expenditures, principal repayment, taxes or one-time charges. Sadly, the Debtors' financial distress will come as no surprise to anyone.
We continued:
This ain't gonna be pretty. Marble Ridge has already had one suit for fraudulent transfer dismissed with prejudice at the pleading stage. Now there are defamation and other claims AGAINST Marble Ridge outstanding. And subsequent suits in the NY Supreme Court. Have no fear, though, folks. There are independent managers in the mix now to perform an "independent" investigation into these transactions; they are experienced fiduciaries with limited to no ties to private equity or the debtors' professionals and can be expected to keep an open mind about everything. No worries.

The debtors intend to have a plan on file by early June, confirm the case in September, and emerge in Q4. Until then, pop your popcorn folks. You can socially distance AND watch these fireworks.
Man. Little did we know how BIG those fireworks would be. So big, in fact, that they would serve as a bat signal for some heroes to emerge.
*****
Things got kicked off when Marble Ridge Capital secured itself a seat on the official committee of unsecured creditors ("UCC") and Mr. Kamensky got himself named as a "co-Chair." The committee then retained Richard Pachulski from Pachulski Stang Ziehl & Jones LLP.
Before the Pachulski firm could even get started conducting its own investigation into the asset stripping transactions, Marble Ridge Capital moved for the appointment of an independent examiner. Why? Kamensky had zero faith that the independent managers would conduct anything other than a sham investigation. It was hard to blame him. After all, the directors were installed by the very firms they were expected to investigate. Consequently, the psychology of a distressed investor — which, to be clear, can often border on acute paranoia — was very much at play here. Kamensky had already spent two years litigating with Ares and CPPIB; he wasn't about to just trust that their manager appointees would do his bidding.
Judge Jones, however, wasn't too keen on appointing an examiner. We wrote at the time:
The Judge basically asked the Pachulski Stang firm, as counsel to the unsecured creditors' committee, to step up and fulfill its duty to perform a contemporaneous investigation parallel to the disinterested managers. Noting that he had a statutory obligation to appoint an examiner under these circumstances now that the request had been made, he indicated that one of two things could happen: (1) he'd appoint an examiner almost solely to comply with the statute but limit him or her to basically baby-sitting [the independent managers] similar to how Quinn Emanuel oversaw the investigation conducted in the Cenveo case (long story, google it) or (2) [Marble Ridge Capital] could, after thousands of dollars of lawyer time in advance of and during this hearing, withdraw the motion without prejudice. MRC chose the latter.
In the process, however, and in large part due to the poking and prodding of Marble Ridge Capital's counsel Brown Rudnick LLP, Judge Jones unleashed a complete and utter napalming of one of the independent managers for lack of preparedness. That independent manager subsequently stepped down (due to a health emergency) and the remaining independent manager, Scott Vogel, immediately started showing indicia of seriousness by dropping subpoenas like they were hot. Judge Jones' message was read loud and clear: he wasn't trifling and he wasn't going to suffer fools. Hero #1, come on down!
From there, it was wait and see.
On July 23, Mr. Vogel revealed during a court hearing that his investigation had, in fact, "…revealed that, at the very least, the estates hold viable claims based in constructive fraudulent conveyance because the Company was likely insolvent at the time of the Distribution." (emphasis added).
The next day, on July 24, the UCC filed its 116-page "preliminary report" (Docket 1346) along with several appendices and an expert report from the Michel-Shaked Group (Docket 1354). Unfortunately, the committee's report is redacted but the gist is clear: the company was insolvent at the time of the asset stripping transaction and, taking things a bit farther than Mr. Vogel, the MyTheresa transaction constituted an actual and constructive fraudulent conveyance.
The committee came in hot:
In September 2018, non-Debtor Neiman Marcus Group, Inc. ("NMG Parent") – acting at the behest of its controlling equity interest holders (collectively, the "Sponsors"), i.e., Ares Management, L.P. and Canada Pension Plan Investment Board – pilfered at least hundreds of millions of dollars of value from the Debtors via a gratuitous equity distribution designed for the express purpose of "moving certain assets with strategic value ... outside of the loan party group" in order to "maximize the long-term value ... for the Sponsors." There is no doubt that the plan to siphon value from the Debtors, and transfer assets outside the reach of their creditors, was directed by the Sponsors.
The committee continued:
The asset grab involved MyTheresa, a luxury retailer the Debtors acquired in 2014. MyTheresa was the Debtors' "saving grace" (in CPPIB's own words) but that did not give the Sponsors a moment's pause in forcing the Debtors to hand over MyTheresa, for no consideration.

The Sponsors began hatching their plan for MyTheresa in mid-2016, a dismal year for the Debtors that marked "a point in time of downturn" in their business as a whole.
Tellingly, both Sponsors dramatically marked down the value of their respective $650 million investments in the Debtors beginning in 2016.
In marked contrast to the rest of the debtors business, MyTheresa was (and still is) booming: from FY2013 to FY2019, MyTheresa's median revenue growth rate from FY2014 to FY2018 was 30.7% compared to median revenue growth rate of only 2.2% for the rest of the Debtors' business. Dr. Israel Shaked of The Michel-Shaked Group … had concluded that MyTheresa had a positive equity value of $675 million in March 2017, while the Debtors (even including MyTheresa) had an equity value of negative $1.198 billion at the same time. Notably, even financial advisors the Sponsors retained to assist them with their scheme — Lazard Frères & Co. LLC — prepared valuation materials reflecting a negative equity value for the Debtors (excluding MyTheresa) as of early 2017.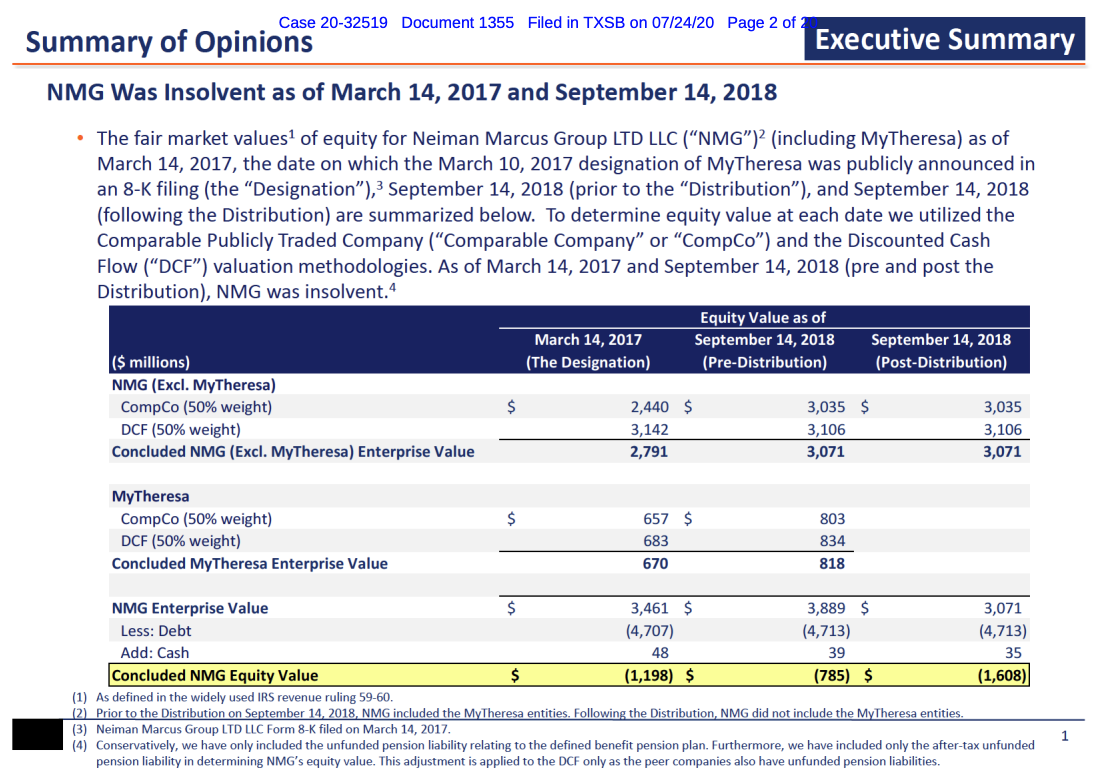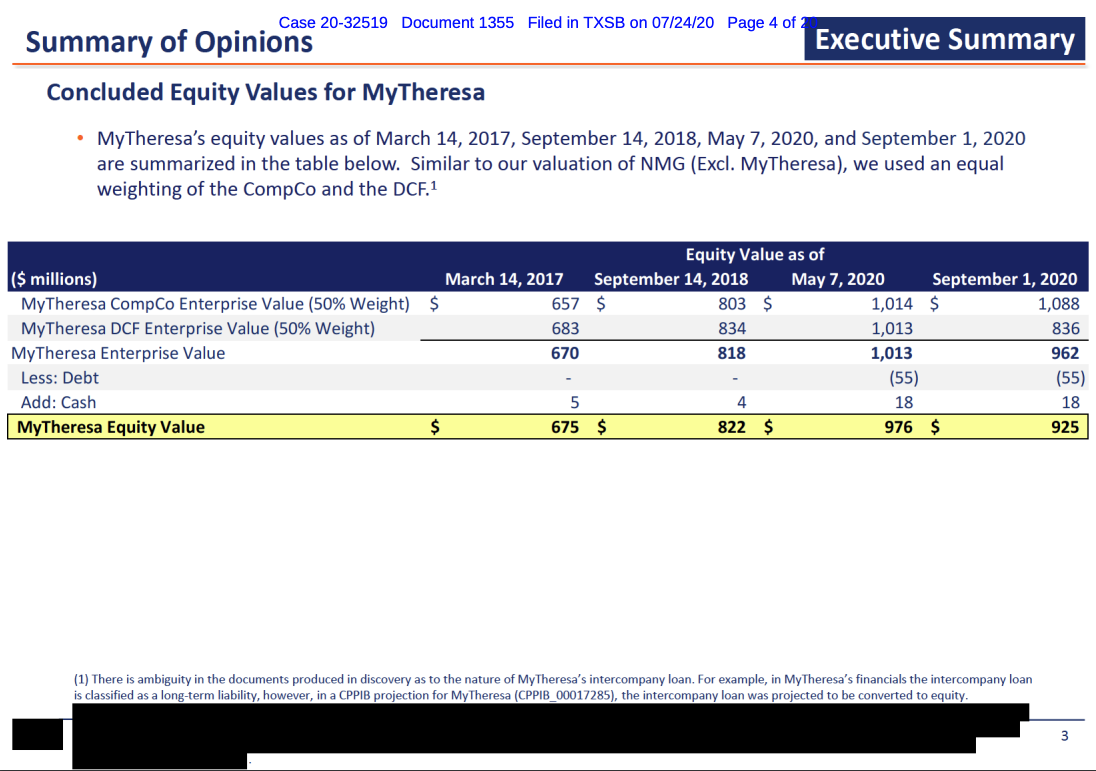 The papers are a master class on proving fraudulent conveyance. If only we could see the director's cut. "Bankruptcy. A transparent process. Except when it's not."
We can, however, see the consequences. On July 30, Mr. Vogel announced a global settlement! Hero #2, come on down!! (PETITION Note: it's a somewhat low bar when an independent manager/director actually does some of what he/she is supposed to do. That is, actually conduct an investigation and acknowledge the incontrovertible facts that the PE overlords engaged in some shady a$$ sh*t).
Note the new recovery for general unsecured claimants! 140 million Series B preferred shares + $10mm cash + the senior secured creditor waiver of deficiency claims (that would have otherwise diluted general unsecured claims to oblivion)!! This was a BIG result for unsecured creditors and Pachulski as counsel. All hail hero #3!
And looooooooong-awaited validation for Marble Ridge Capital. Cheers to hero #4!! Hip hip hooray!!
With the filing of a revised plan of reorganization reflecting the above settlement and the conditional support of the committee (subject to working out some specifics related to the Series B share protections and distribution mechanism),* that really should have been the end of all of this drama as the company marches towards the consensual confirmation of a plan of reorganization. That is, assuming that there wasn't any shady underhanded activity in the background. Spoiler alert: there was shady underhanded activity in the background.
As it turns out, the Series B shares didn't end any drama; rather, they simply marked the start of an ugly new chapter. A chapter that saw the swift fall of one of the aforementioned heroes. 🤦‍♀️
We'll dive into that chapter — and its major implications for the industry as a whole — in our next (Members'-only) briefing.
*In a nutshell, the committee wants to make sure that the Series B shares have robust rights vis-a-vis, among other things, change of control redemption, protective covenants, and access to information — in some instances, similar to the rights enjoyed by Series A shares. We could delve into this further but we'd just bore you to tears. Suffice it to say that the committee needs these protections to ensure that their recovery is "real." After some motion practice and a couple of status conferences with Judge Jones, it appears that the sides are getting closer to solving these issues as the case inches closer to a confirmation hearing.
---
⛓Notable: What We're Reading (8 Reads)⛓
1. Advertising (Long New Uses for Ad Dollars). We were on Target.com ($TGT) the other day because cereal has been a thing lately — for breakfast and, uh, dinner — and we happened to notice confusion-inspiring sponsored ads.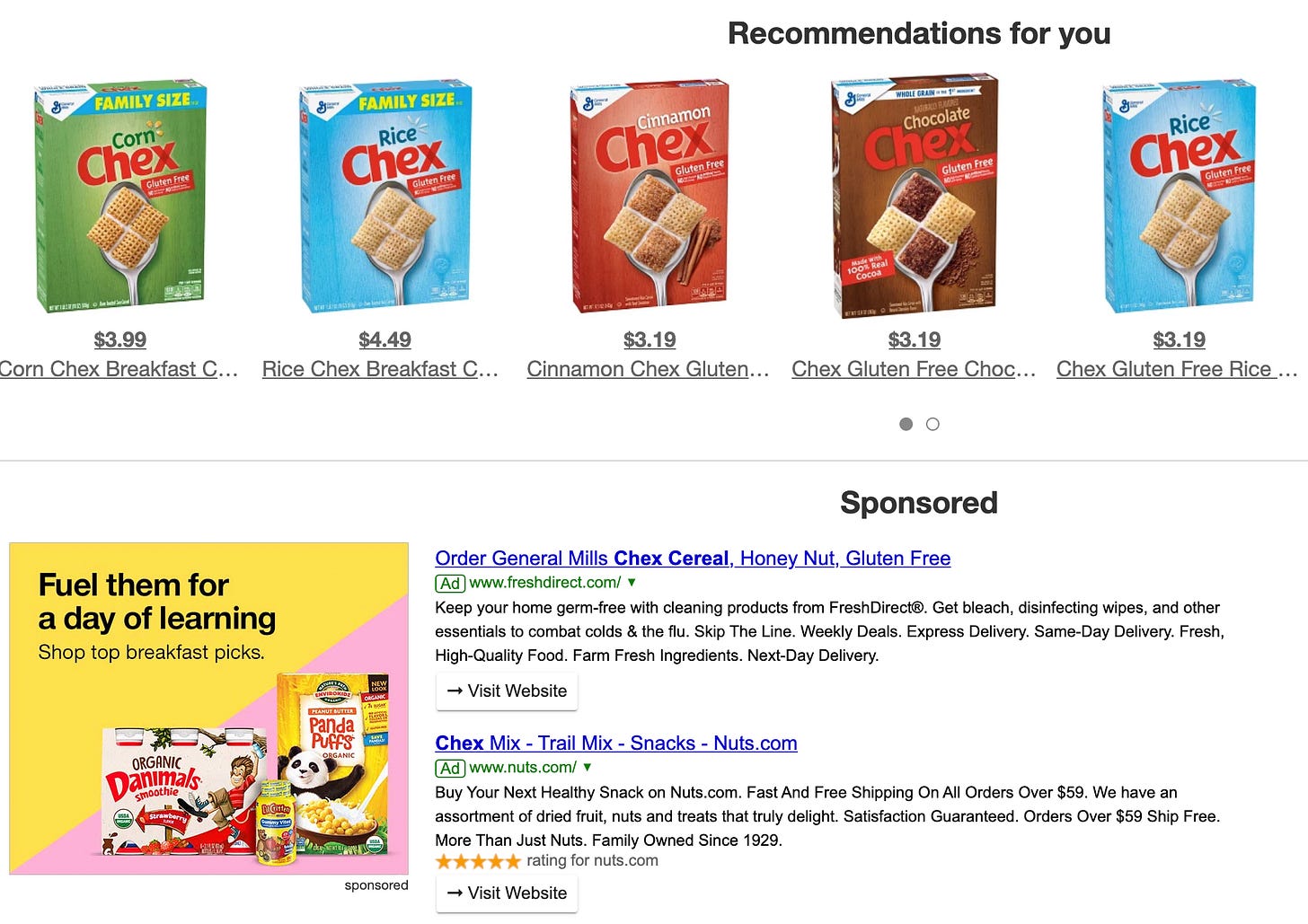 Apparently this is, like, a thing now — especially thanks to COVID. The upshot:
While there appears to be little overlap between the smaller brands paying for placement in physical marketplaces and the larger consumer products companies appearing via ad tech on even larger retailers' sites, the objectives are similar: Retailers need to leverage their real estate and traffic, brands need new opportunities for placement and consumers are on a quest to discover what's new, or at least what's new to them.
2. China (Long Unprecedented Defaults). The US isn't the only debt-ridden sh*tshow, apparently.
3. E-Commerce (Long the Facebook Effect?). FB is leaning into e-commerce hard, deploying easier shopping flows on both its main app and Instagram.
4. Gyms (Short Dumbbell Supply). The only thing that may help gyms recover in the short term is "America's dumbbell shortage is what happens when huge demand collides with a broken supply chain."
5. Media (Short Ad-Based Revenue). This is an interesting piece about how The New York Times Co. ($NYT) is a "sleeper tech company" that has now successfully transitioned its business model.
6. Muni Distress (Short Tax Revenue). Municipal budgets dependent upon tourism are in for a world of hurt.
7. Public to Private Shift (Long Evolution). This is a Morgan Stanley report about the markets, buyouts and venture that's been making the rounds.
8. Zillow (Long Speechlessness). Honestly. We're just posting this because it's bananas.
---
📤Notice📤
Maja Zerjal Fink (Partner) joined Arnold & Porter from Proskauer Rose LLP.
Robert Fishman, Brian Shaw, Peter Roberts, David Doyle, Allen Guon, Mark Radke, Ira Bodenstein and Thomas Horan joined Cozen O'Connor from Fox Rothschild LLP.
Tim DeSieno (Global Director) joined Omni Bridgeway from Morgan Lewis & Bockius LLP.
---
📚Resources📚
As summer nears an end, we have updated our compilation of a$$-kicking resources covering restructuring, tech, finance, investing, economics and disruption. We've included candidates for the Financial Times and McKinsey's "Business Book of the Year," a list of 15 titles that will be winnowed down to a shortlist of six on September 23. Some contending titles that we're hoping to check out include:
If a FT/McKinsey list is to haughty for you, we understand. These are a few other books that are high on our list to check out:
---
Nothing in this email is intended to serve as financial or legal advice. Do your own research, you lazy rascals.