🤑Is the Next Big "Effect" Being Born Now? (Long Entrepreneurship)🤑
Shopify Inc., BigCommerce Holdings Inc., CLO Trends & XClaim Inc.
Given where unemployment numbers are, we can't say we're surprised to see this:
A burst of activity from people filing for IRS Employer Identification Numbers would seem to indicate that, potentially driven by layoffs across the economy as a whole, more Americans are launching side businesses and going independent in order to get by. In the first dozen weeks of the year, there were in the ballpark of 50,000 new non-employer filings per week, which by week 12 in late March dipped down to 41,200 such filings. Since then, the number of filings has risen reliably week over week, and as of the 30th week of the year in late July stood at 76,600. Recessions are linked to people starting their own ventures as other employment dries up or falls through, and the pandemic setback has been no different, even if a little faster.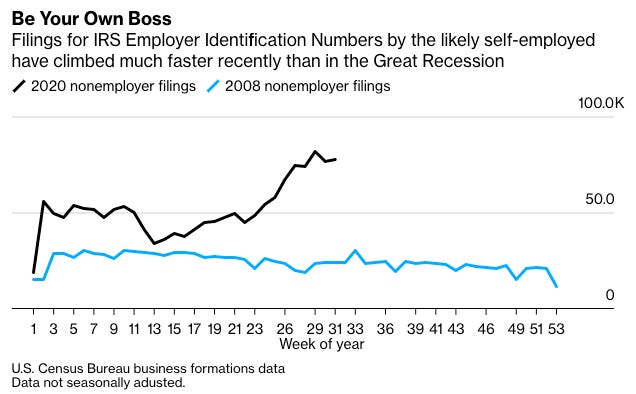 This is precisely what happened during the Great Financial Crisis. In fact, according to Shopify Inc. ($SHOP) founder Tobi Lütke, Shopify's growth really took off after the GFC when heaps of laid-off folks found the platform and started new consumer products companies. Clearly a lot of people expect the e-commerce platform to benefit from today's current sky high unemployment rate too: take a look at the trajectory of SHOP's stock…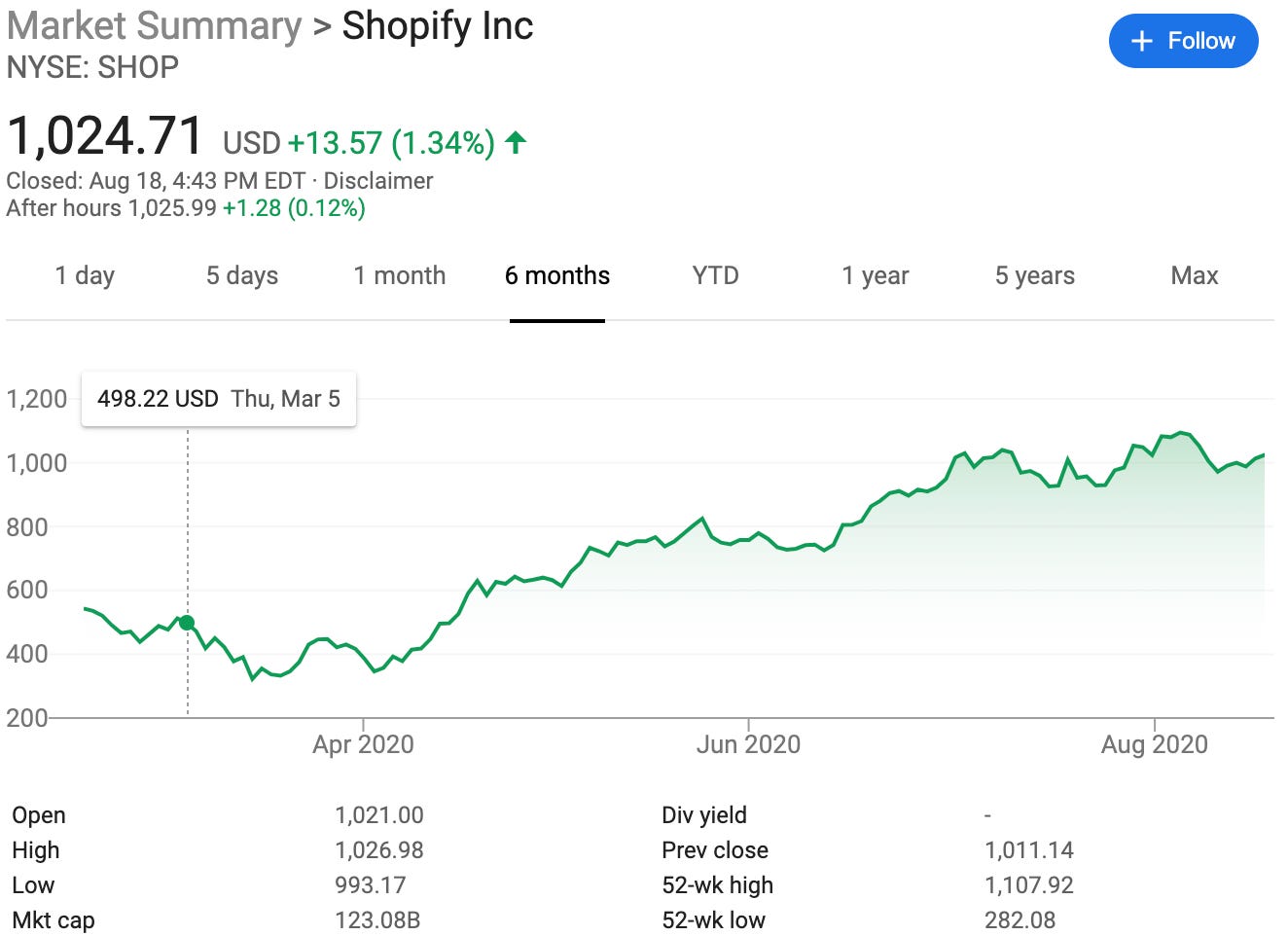 Similarly, BigCommerce Holdings Inc. ($BIGC) went public two weeks ago and the stock surged out of the gate (before coming back down to earth). Note: it priced at $24/share.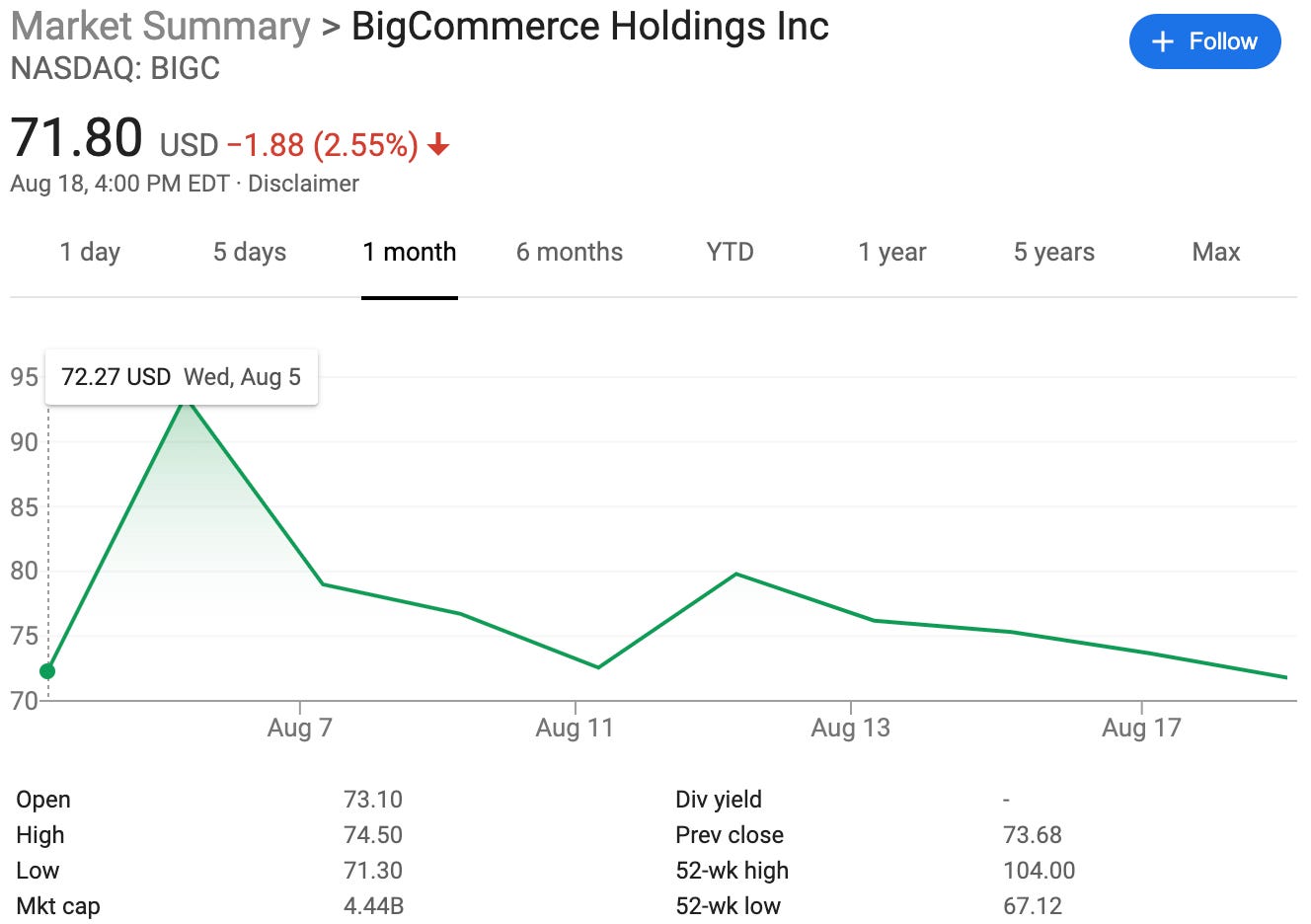 Similarly, you can see the vast improvement of other popular e-commerce sites: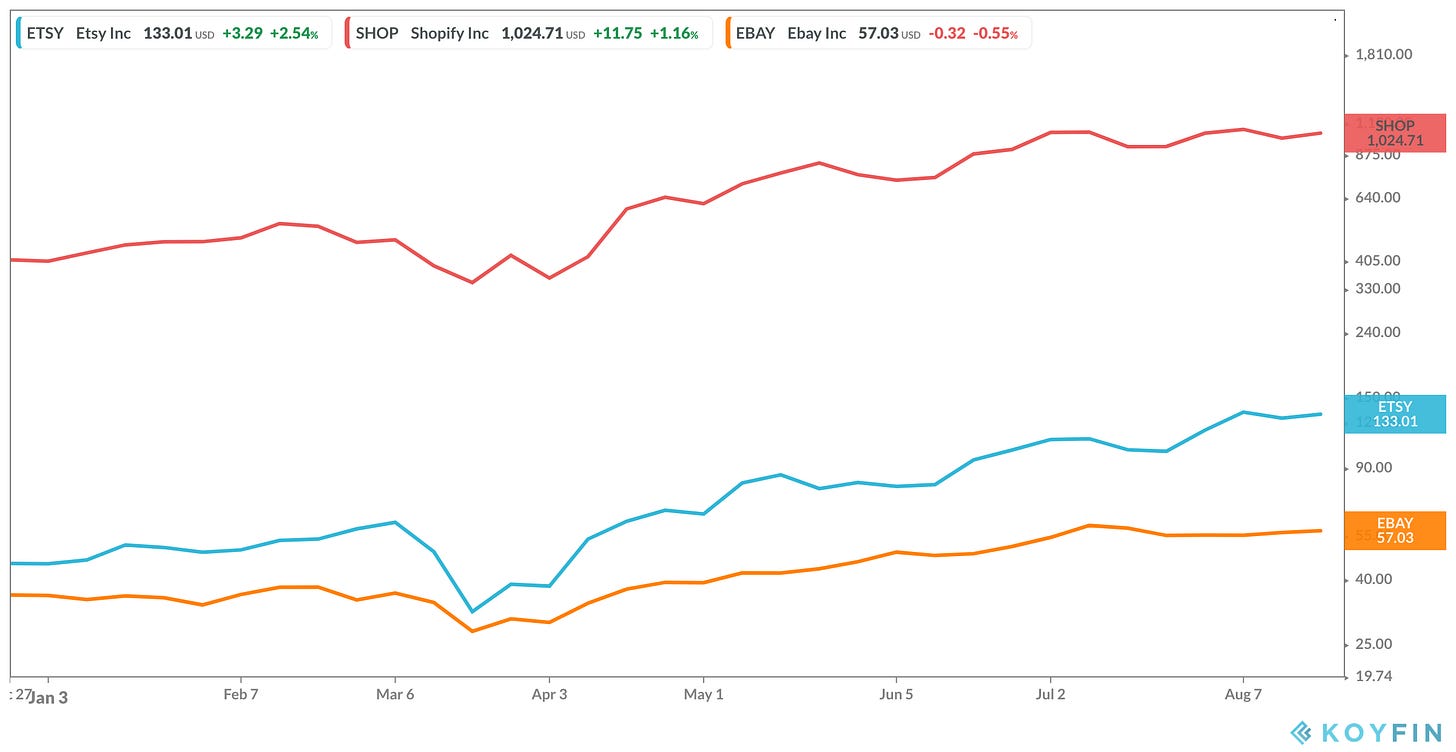 It all sounds super easy right? Well, it's not as easy as it was ten years ago.
Here is an absolute banger of a piece by Packy McCormick discussing the following question:
[I]f ecommerce is blowing up, why are there so few big DTC exits?
It's a good question. Putting aside the Harry's/Edgewell transaction (which ultimately got blown up by the feds on anti-competition grounds), there's been virtually no activity in the space.
McCormick writes:
Shopify -- and Stripe, Big Commerce, Google, Facebook, FedEx, UPS, Flexport, Anvyl, Boxc, Kustomer, Returnly, Alibaba, and hundreds more ecommerce infrastructure companies -- is arming everyone. Using off-the-shelf software and services, anyone with an internet connection and a credit card can set up an online store and sell things to people.

In many ways, that's a great thing. Particularly in a period of high unemployment, starting an ecommerce business is one potential way to keep paying the bills. Extremely low upfront costs and easy-to-use tools mean low barriers to entry.
That's right: the low barriers to entry make things ridiculously easy for some of those 70k+ people to file for a tax identification number and start a consumer products business. Mr. Lübke calls this arming the rebels (against Amazon Inc.).
But low barriers to entry are also a problem…
First, low barriers to entry mean more competition, and everyone running around with arms means chaos. It means that it's a great time to be an arms dealer, and a tough time to be a rebel.

Second, now that nearly every piece of the value chain has become modularized, the battle has concentrated in one place: marketing, via paid acquisition and brand, the only moat for the vast majority of brands.
The piece is well worth reading — link here, again, for your ease of reference because we won't do it injustice by summarizing it. The upshot is that DTC companies themselves are finding it harder and harder to break through such that, while getting started may be easier than ever, scaling is still, and will continue to be, a massive challenge. The winners end up being the infrastructure (again Shopify) and the ad dollar recipients like Facebook Inc. ($FB).
Think "brand" will save the day? Maybe. Yet again, maybe not. Per McKinsey & Co.:
The crisis has prompted a surge of new activities, with an astonishing 75 percent of US consumers trying a new shopping behavior in response to economic pressures, store closings, and changing priorities. This general change in behavior has also been reflected in a shattering of brand loyalties, with 36 percent of consumers trying a new product brand and 25 percent incorporating a new private-label brand. Of consumers who have tried different brands, 73 percent intend to continue to incorporate the new brands into their routine. Gen Z and high earners are most prone to switching brands.

The beneficiaries of this shift include big, trusted brands, which are seeing 50 percent growth during the crisis, and private labels, which have outpaced the retail market. Some 80 percent of customers who started using a private brand during the pandemic indicate they intend to continue using it once the COVID-19 crisis subsides.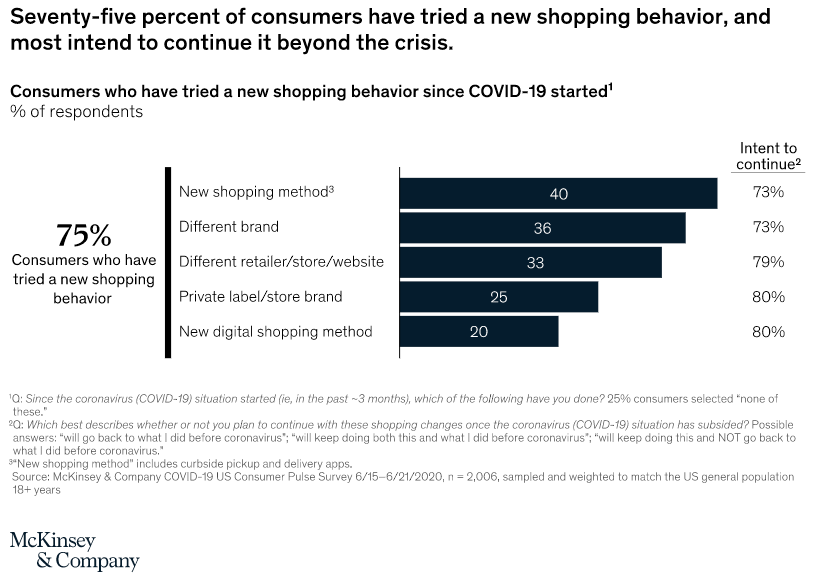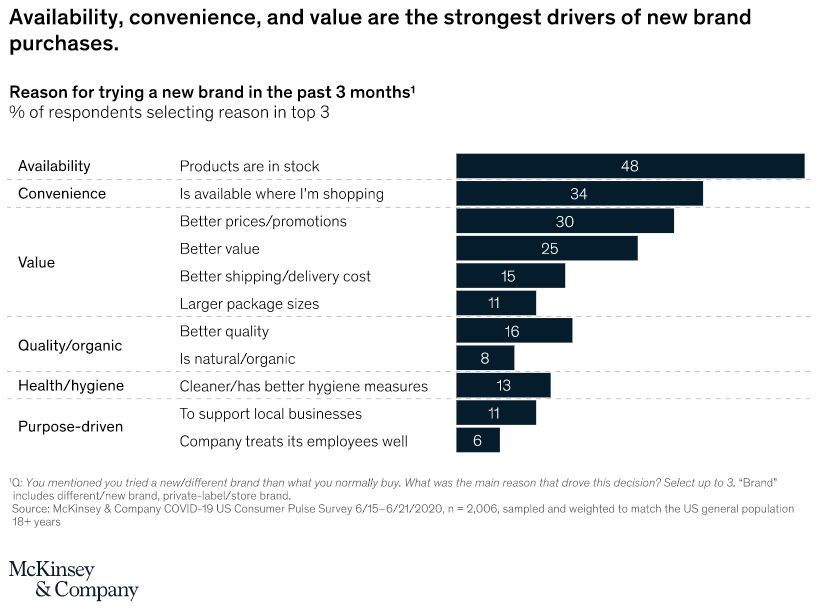 And so given new company formation trends, it is very possible that one of the companies that is launching today will lead to the "Next Amazon Effect" that we're reading about in a chapter 11 debtor's First Day Declaration tomorrow. It seems, however, that, absent innovative and fresh technologies that extend beyond what is currently available, it will be a much harder and longer slog to get there than it was after the last big downturn.
---
⚡️Correction⚡️
On Wednesday we noted that P.F. Chang's is owned by Centerbridge Partners. That would be true: if we had written it on, say, Wednesday, February 6…2019. In March 2019, Centerbridge dumped the chain on TriArtisan Partners and Paulson & Co. We are sorry for the miss. And we feel sorry for TriArtisan and Paulson.
---
📉Chart of the (Mid)Week📉
---
⛓Notable: What We're Reading (5 Reads)⛓
1. CMBS (Long Special Servicing). 1,065 loans. $40b in outstanding CMBS. Per Commercial Observer:
Around 7 percent of the commercial mortgage-backed securities (CMBS) sphere was transferred to special servicing in the first half of this year as the country and the commercial real estate finance sector wrestled with life under the weight of COVID-19, according to a Fitch Ratings analysis of Trepp CMBS monthly special servicing data.
2. COVID (Long Creepy Tracking, Long a Healthy Consequence?). Before you fillet us, let's just say upfront that we're including this not for any political commentary but as cautionary tale because, as we saw before, rampant COVID cases obviously affect the economy and directly correlate to bankruptcy activity. Read ⬇️and draw your own conclusions about what it could mean.
"During the four-day period, about 26,000 devices were identified on the Las Vegas Strip. Some of those same smartphones also showed up in every state on the mainland except Maine in those same four days. About 3,700 of the devices were spotted in Southern California in the same four days; about 2,700 in Arizona, with 740 in Phoenix; around 1,000 in Texas; more than 800 in Milwaukee, Detroit, Chicago and Cleveland; and more than 100 in the New York area."
3. E-commerce (Long Surges). Yes, e-commerce growth did accelerate years in months. Charts!
4. Icons (Long What is Dead May Never Die). Re-enter Payless. Choice bit:
As part of the Omni-channel rollout, our goal is to open 300-500 free standing stores across North America over the next five years, beginning with the launch of the first prototype store in Miami, FL, the new home and headquarters for the brand. The new store locations will be in addition to the brand's existing 700 international stores – 298 Franchise and 412 Latin and Central America locations.
5. The Numbers (Short Yogababble). A few words of caution about Casper Sleep Inc. ($CSPR).
---
😎Notice of Appearance - Matt Sedigh, Founder & CEO of XClaim😎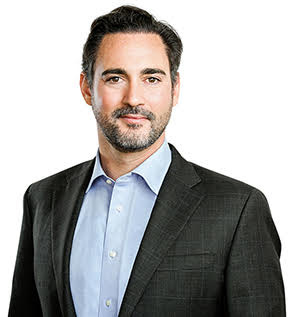 This week we welcome Matt Sedigh, the Founder and CEO of XClaim Inc., a new online bankruptcy claims trading marketplace that hopes to "revolutionize the bankruptcy claims market by unleashing digital efficiencies of scale." It sure sounds like Matt is trying to disrupt things. We dig it. The platform launches THIS WEEK (and they're hiring!).
Let's find out more…
PETITION: Let's put this in venture capital parlance. What is the "problem you're trying to solve" with XClaim?
All markets evolve over time to become more efficient, but trading bankruptcy claims is still an opaque and inefficient market. There has been absolutely zero innovation in the space since the code was enacted in 1978. Every trade that has ever occurred has been the result of a financial institution scouring a publicly available claims register to identify a claim as an attractive investment opportunity. Without a pre-existing relationship, prospective buyers solicit creditors to sell their claims, usually by way of a mass-mailing or cold-call. It is not uncommon for a trade to take months to settle due to manual data entry processes and errors from ink on paper documentation.

XCLAIM solves for these inefficiencies by aggregating and organizing the universe of claims from every case and every court onto a single platform – we solve for the supply side. In addition, we eliminate paper by converting all documentation to digital contracts and automating any manual process with technical integrations for an end-to-end trading experience. In the context of a financial market, these efficiencies enhance the liquidity of an illiquid asset class.
PETITION: We understand that others have trodden this ground in the past and failed. Why will XClaim succeed in this area where others haven't?
Those groups didn't appreciate the extent to which the buyers in this market would resist their innovation. Buyers in this market are sophisticated distressed investors. Creditors, on the other hand, are relatively unsophisticated and motivated to sell – they just want to collect on an open receivable. An opaque market inures to the benefit of only one side of that transaction.

XCLAIM has approached this problem differently. First, our value proposition for the buy-side is solving for their greatest pain-point: sourcing. By having all claims on a centralized platform we can instantly provide access to any creditor in any case. Second, the efficiency we create comes from speed (i.e. liquidity). We facilitate trading by allowing buyers to make a bid and transmitting that bid directly to creditors. Creditors then have the ability to accept, counter, or reject that bid without either party making public disclosure of the economics of the trade. It's all private sale.
PETITION: Walk us through the tech and how your platform benefits both sellers and buyers.
It's actually quite simple. We've been working with each of the Claims Agent groups to synchronize their publicly available claims register databases with our marketplace. That's our supply. In their capacity as an outsourced clerk of the court they can't be a marketplace themselves. So by working together we actually improve their processes by providing the claims register with accurate claim ownership data in real-time.

In addition, we've also built electronic contract negotiation tools and e-sign capabilities for buyers and sellers to easily conduct a trade.

Lastly, we've integrated our tech with the courts and their CM/ECF systems to automate the process for filing Rule 3001 notices to the docket.

All of this culminates in a seamless process where buyers benefit from instant transfers and creditors get an immediate recovery.
PETITION: What are you projecting for bankruptcy filings going forward? Given the state of the economy, you may have lucked into the most opportune time imaginable, right?
Since COVID started impacting filings in March, we've seen more than a doubling of large Chapter 11's over the same period last year. As you've written about before, most of the filings to date have been companies that were already teetering. I think it's widely expected that we will be seeing many, many, many more filings over the next several years until this crisis is behind us.

This economic environment is certainly a tailwind for us but we are building something that's inevitable. The claims trading market, like every other market on Earth, cannot avoid technology forever. It's better to be lucky than good. We are both.
PETITION: We like to talk about tech and venture capital from the lens that it's important to know what's coming to understand what is. You've raised money from venture capital firms. Tell us about that process and how hard it has been to educate folks about the crazy-a$$ restructuring space?
VC is an entirely different world from where I was coming from. I suppose it's understandable that after spending my entire career around troubled businesses I had grown to become extremely risk-averse. VC's on the other hand are the most risk-tolerant people on the planet.

The greatest hurdle has definitely been educating potential investors. Few of them had any idea that this market even existed, and trying to make something as unsexy as bankruptcy into a compelling investment opportunity was counterintuitive to them. I met with 85 investors and ended up receiving 10 term sheets so I must've said something they liked.
PETITION: You were a Managing Director at Conway MacKenzie before jumping ship to scratch the proverbial entrepreneurial itch. Tell us about that leap and how has your experience at Conway prepared you to build and lead your own company?
I really wrestled with the idea of leaving a good job that I had been working towards for my entire career. I tried to convince myself of a reason that this wouldn't work. I couldn't.

When I got into restructuring I remember thinking that I always wanted to have my own business one day but didn't know what it would be. I figured that learning from the mistakes of other people would be an invaluable education for whenever that opportunity arose. I was right. I became a bankruptcy expert after more than 50 engagements advising debtors, senior lenders, and creditor committees. I was hired as a CRO on three separate occasions. That was stressful, knowing that thousands of jobs were dependent on me making the right decisions. In comparison, launching a startup is just pure fun.

In the end, my wife was totally supportive and said to me, "make two promises; one, see it all the way through wherever it goes, and two, don't lose the house". I figured those were two promises I could keep, so I surrounded myself with an amazing team and together we are building the future of this industry!
PETITION: We like asking people about resources that have helped frame perspectives. What are some books or podcasts that have helped you get to where you are today?
Not long after founding Amazon, Jeff Bezos gave an interview where he described his decision-making process for leaving his job to become an entrepreneur. He came up with a "regret minimization framework" which made it an easy choice for him. He realized that he would never regret trying and failing to make his idea a reality. Conversely, not trying would haunt him forever. That message really spoke to me.

Peter Thiel gave a lecture at Stanford a few years ago that was turned into an audiobook; "Zero to One". I've easily listened to it 20 times. It provided a great basis for understanding the singular act of creating something from nothing. What we're building has never been done before and there can only ever be one first time for anything.

Last but certainly not least, I'm an avid reader of PETITION. You keep me informed and thinking about the macro and micro and everything in between. You also make me laugh during a time when laughter is in short supply. Thanks for that!
PETITION: Good luck, Matt. And thanks for the gratuitous plug! 😜
---
📚Resources📚
We have compiled a list of a$$-kicking resources on the topics of restructuring, tech, finance, investing, and disruption. 💥You can find it here💥. We've added "No Filter: The Inside Story of Instagram," which is next up on our "To-Read" list.
---
📤Notice📤
Alex Zuckerman (Managing Director) joined WhiteHawk Capital Partners from Great American Capital Partners LLC.
David Balderach (Senior Managing Director) joined BDO USA LLP from Energy Special Assets.
Perry Kalajian (Senior Managing Director) joined Focus Management Group.
Robert Novak (Managing Director) joined BDO USA LLP from Morris Anderson & Associates Ltd.
---
💰New Opportunities💰
Looking for quality people? PETITION lands in the inbox of 1000s of bankers, advisors, lawyers, investors and others every week. Email us at petition@petition11.com to learn about posting your opportunities with us.
---
Nothing in this email is intended to serve as financial or legal advice. Do your own research, you lazy rascals.