💥Is Equinox Next?💥
Town Sports is latest gym chain to file for chapter 11 bankruptcy
💪Can You Spot Me, Bro? Part II.💪
In Sunday's Members'-only briefing, we discussed the plight of brick-and-mortar gyms. As anticipated, on Monday, Town Sports International LLC, the company behind, among other brands, Johnny's beloved New York Sports Club, filed for bankruptcy in the District of Delaware (along with 161 affiliates, the "debtors"). Pre-COVID, the debtors employed 9,200 people and serviced over 605,000 members across 183 locations primarily in the Northeast and Mid-Atlantic regions — proof-positive, given the disturbing lack of cleanliness Johnny experienced at those hell holes, of why this country is so susceptible to a pandemic.
Jokes ("jokes") aside, this is, no doubt, in large part a COVID story. COVID shut down gyms, COVID spikes delayed re-openings, COVID has customers skittish about returning, and COVID is causing a complete re-evaluation of what it means to provide fitness services to customers while keeping them safe. The latter part has culminated in the debtors' "COVID Plan," which, in turn, translates into "…significant costs related to increased training, more comprehensive cleaning, disinfecting, and health screening protocols, and enhanced facilities maintenance." It also means "…modifying activities, restricting programs, adjusting hours of operation, travel restrictions, telecommuting opportunities and virtual communication platforms." And so it's a pretty rudimentary calculus: customer revenues (and satisfaction) ⬇️ + operating expenses ⬆️. With no options for revenue generation and few reasons for optimism, the debtors spent the last few months trying to navigate its expenses and carve a path forward: they fired thousands of people; they negotiated with their landlords; they engaged their lenders and third parties on strategic alternatives. None of it could stave off bankruptcy.
Bankruptcy avails the debtors of two very powerful tools. First, in light of failed negotiations with landlords over lease concessions, they can use section 365 of the bankruptcy code as a hammer and reject those leases and free themselves from ongoing obligations thereunder (relegating the landlords to general unsecured creditors which, per an absolute priority waterfall, puts them behind senior lenders but in front of the equity for any recovery coming out of the bankrupt "estate"). The debtors already have a motion on file seeking to reject 35 leases.
Second, bankruptcy code section 364 can confer certain benefits upon lenders willing to provide new financing — including, among other things, "priming" of pre-petition debt and super-priority lien and claim status. The debtors go into the bankruptcy with approximately $167.5mm of funded secured debt, inclusive of accrued and unpaid interest: $12.5mm under a revolver that matured on August 14, 2020 and $155mm under a term loan facility that matures on November 15, 2020. Behind that, they have approximately $74mm in outstanding trade and other unsecured liability. Given its liquidity challenges, the debtors have spent the last several months trying to find new financing alternatives while parallel-pathing a potential sale of substantially all of their assets.
Two options emerged. Pre-petition lender Kennedy Lewis Investment Management LLC, a middle-market focused opportunistic credit investor,* owns over 45% of the total amount of pre-petition secured debt and offered a $80mm DIP credit facility and expressed a desire to credit bid its debt for the debtors' assets. The other lenders, however, said "thanks but no thanks," blocking this proposal purportedly because the credit bid component wouldn't lead to a suitable recover for them to (PETITION Note: at the time of this writing, the loan is quoted at or around 16.5 cents on the dollar). Rather, those other lenders — which, significantly, account for the majority needed to consent to priming liens — currently support a third-party proposal from private equity firm, Tacit Capital.** That proposal involves a (i) $17.5mm DIP, (ii) commitment for an additional $47.5mm in exit financing and (iii) credit bidding their debt.
And so you have a lender game of chicken. And the debtors be like: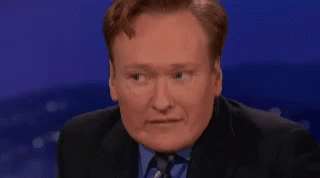 Or so they say. But they're not exactly staying neutral here. They also say they believe the KLIM proposal is the better one. It provides more liquidity; it provides for the potential assumption and assignment of 94 of the debtors' leases — a greater number than that contemplated by Tacit Capital and the other lenders. That would, obviously, preserve more jobs, tax revenue, yada yada yada. So they need KLIM and the other lenders to come together and kumbaya around a go-forward plan. The debtors indicate that discussions are ongoing and the debtors have established a special committee of independent directors to help facilitate.
Wait. Hold on. This is bankruptcy so of course there have to be allegations of shady-a$$ sh*t transpiring. In fact, an ad hoc group of "other" lenders allege that attempts to discuss and negotiate have been rejected by the debtors; they allege that this is an inside job by KLIM (which also happens to be a large shareholder) and board member Kennedy Lewis himself; and they assert that this is all supported by the debtors. In a response to the cash collateral motion, they wrote:
…after months of the Ad Hoc Term Lender Group trying to bring the Debtors to the table, this filing makes clear what we suspected all along—the Debtors never had any real intention of providing access to information, running a marketing process, or reaching out to third parties. Instead, the Debtors have been solely focused on pursuing a deal with Kennedy Lewis Investment Management, LLC ("Kennedy Lewis"), the second largest shareholder of the Debtors' parent entity ("Parent") at 14.1%, which contemplates a priming debtor in possession ("DIP") financing facility and a sale transaction pursuant to a credit bid. Based on currently available information, the Kennedy Lewis deal would then provide the shareholders of the Parent with a material recovery by virtue of a post-sale merger whereby certain non-Debtor entities (the "Unrestricted Group") owned by the Parent would be merged with the reorganized Debtors in exchange for providing the Parent shareholders with a material percentage of the overall reorganized Debtor equity, all while the existing lenders would receive little or no recovery.
They continue:
The largest shareholder of the Parent is Patrick Walsh, the Debtors' Chief Executive Officer and Chairman of the Parent board of directors (the "Board"). The second largest shareholder of the Parent is Kennedy Lewis itself. The conflict of interest here is clear and explains the Debtors' insistence on preventing third parties from accessing information, failing to run any kind of sales or marketing process, and continuing to insist that the non-consensual Kennedy Lewis transaction is in the best interests of the Debtors and their estates.
Which explains the appointment of the independent directors. This potential "conflict of interest" wasn't entirely clear from the debtors' papers.
So the upshot is that the debtors do not have a definitive DIP, do not have a stalking horse purchaser and, for now, don't even have consent to use the lenders' cash collateral. Good times. To make matters worse, the ad hoc group foreshadows dark times ahead if these issues aren't resolved pronto:
While the Ad Hoc Term Lender Group is working with the Debtors on the terms of a limited duration, consensual cash collateral order, this is a short-term bandage for a much larger problem—the Debtors need a new source of capital. The Debtors' budget demonstrates that they cannot run these chapter 11 cases on the use of cash collateral only.
While all of that fun stuff is happening behind the scenes, gym-goers are looking at all of this and wondering "WTF." They were outraged to see charges in March and April for their gym fees while clubs were closed. The subsequent social media backlash caught the attention of New York Attorney General Letitia James, who forced the gym operator to temporarily stop charging members and introduce flexible cancellation policies. Recently, Bloomberg reported that the debtors billed their members for full September dues despite the gyms' limited operating hours and reduced capacity. 
Members are pissed; they're staring down the barrel of paying effectively the same amount going forward for fewer fitness services and more administrative hassle to get through the door; they're requesting credits and refunds. Clearly this is credit negative for the business.
As part of their motion seeking the ability to continue various customer programs, the debtors indirectly acknowledge these challenges:
The Debtors do not issue any cash payments on account of the Member Satisfaction Credits, and estimate that approximately $1.9 million worth of Member Satisfaction Credits have accrued, but not been applied, as of the Petition Date.
Particularly following the onset of COVID-19, certain customers may hold contingent claims against the Debtors for refunds and other credit balances (collectively, the "Refunds"). In addition, certain customers may dispute certain charges with their credit card issuer, and the Debtors may be obligated to refund to such issuer the disputed amounts, subject to certain adjustments (the "Chargebacks"). As of the Petition Date, the Debtors estimate that approximately $225,000 is owed and outstanding on account of the Refunds and Chargebacks, respectively. This estimate does not include additional Refunds or Chargebacks that relate to the prepetition period, but which have not yet been requested. The Debtors believe that the increase in customer loyalty generated by the Refunds and Chargebacks far outweighs the costs thereof. Accordingly, the Debtors seek authority to continue to issue Refunds and Chargebacks, in their discretion, in the ordinary course of business, whether related to payments made before or after the Petition Date.
If the above doesn't make this clear, members ought to be sure to affirmatively request a refund. Even better to request the refund from the debtors while also initiating a process with credit card companies.
Finally, there's the employees. As of the petition date, the employee ranks are down to 2,169 people. That's a 7,000 employee reduction! What was once a $5.6mm bi-weekly payroll dropped down to $1.2mm over the last three months and is expected to recover less than halfway to $2.5mm. This demonstrates in real quantifiable terms the impact of COVID.
So we are left with two big questions.
Will the parties come to an agreement such that Town Sports will be able to avoid liquidation?
And given the wave of gyms that have capitulated into bankruptcy to this point, are there any gyms that can avoid chapter 11?
*KLIM is also the largest creditor of Flywheel Sports Inc., a spin boutique that was once wildly popular. Earlier this year, Town Sports, likely at the behest of KLIM, explored an acquisition of Flywheel. On Monday Flywheel
filed a chapter 7 bankruptcy proceeding in NY
.
**If this name rings a bell, it may be because Tacit Capital was also in the mix to buy Rudy's Barbershop Holdings, which filed for bankruptcy back in April.
---
💪Can You Spot Me, Bro? Part III.💪
Maybe Equinox?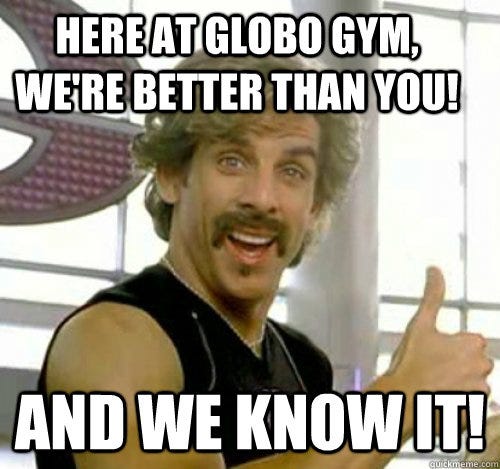 Equinox is an upscale gym with 106 individual clubs located in major metropolitan areas, 35 of which are located in New York City. The gym chain is well-known for catering to an elite demographic with luxurious amenities such as eucalyptus scented towels, top-of-the-line equipment, Kiehl's product, and plush floor stretching mats.
Memberships don't come cheap. The top "Destination Club" membership which provides access to all 106 clubs across the world costs $500/month with a $750 initiation fee. Access to just one of the Destination Clubs in NYC costs $265/month with a $300 initiation fee. There's even a not-so-secret $26,000/month membership for the "mogul-on-the-go." While the gym is graciously waiving their initiation fee for new members who are looking to pounce on a COVID-deal, you're not getting in the door to any of NYC's Equinox clubs for less than $215/month. Even the basic membership is materially higher than its peer set. Crunch Fitness, owned by TPG, offers a $29.95/month membership for 317 clubs. New York Sports Club (discussed above) offers its Passport membership for $79.99/month.
To justify its relatively astronomical membership fees, Equinox provides free admission to group fitness classes across 11 categories, including Yoga, Running, Cycling, and High-Intensity, which members reserve via an app on a first-come, first-serve basis. The popular cycling studio SoulCycle is a subsidiary of Equinox, acquired by majority owner Related Companies in 2011. The clubs also provide a range of ancillary services, including personal training, private pilates lessons, spa treatments, and in-house food and beverage sales. In recent years, the brand has gone on a massive expansion across the fitness and hospitality space, acquiring a minority stake in boxing gym Rumble in January 2018, and breaking ground on a luxury hotel in New York's Hudson Yards development (also a Related Companies project). The hotel is conveniently located next to the gym's latest 60,000 square foot Destination Club, which includes a chic outdoor pool with a stunning view of the 'Giant Falafel' sculpture.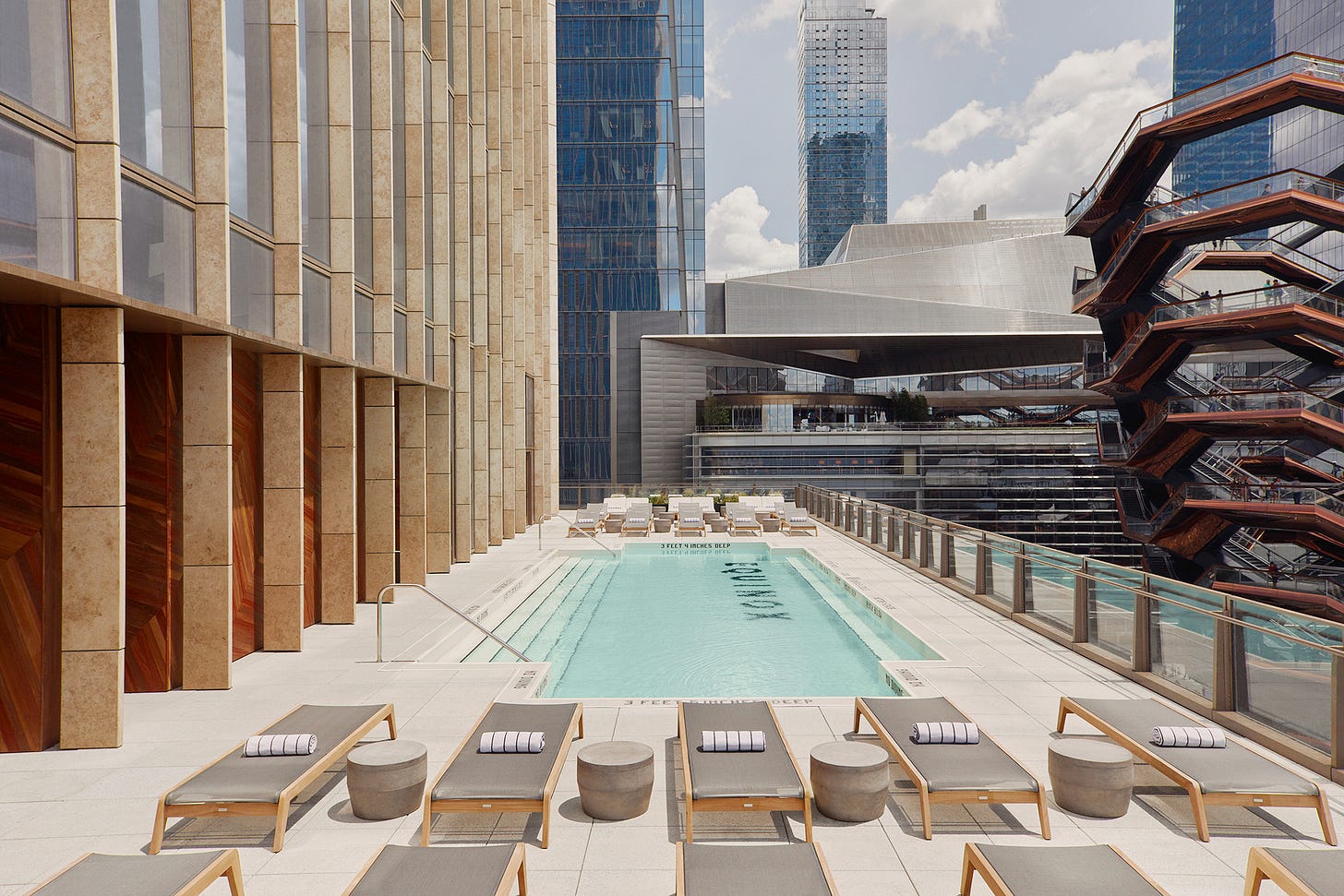 COVID put a stop to this momentum. Recognizing the challenges, Equinox, to its credit, responded quickly, freezing all monthly charges on its active members until state sanctions had been lifted. But it wasn't as if Equinox had much of a choice in the matter given the backlash surrounding Town Sports' billing practices.
Equinox's traded debt consists of two term loans: a $1,021mm ~3.00% 1st Lien TL due 2024, and a $200mm ~7.00% 2nd Lien TL due 2025 (behind a $150mm first lien revolver maturing in November, 2022). Market pricing today indicates the 1st Lien trades at ~78 cents on the dollar while the much smaller 2nd Lien layer trades at ~56 cents (both of which are on the rise). A Moody's report indicated that for the LTM period 9/30/19 (pre-COVID), the company's adjusted debt to EBITDA was roughly ~8.0x for Equinox operations on a standalone basis. When including losses from subsidiaries that Equinox funds, that multiple rises to nearly ~9.0x. While financials for the entity are private, with Equinox's term loans trading well into distressed territory and as COVID continues to be a daily concern for investors, we imagine that leverage figure has widened to double-digits.
The good news is that gyms are gradually re-opening all over the country. The bad news is that the re-opening does not mean you're immediately back to your 'Sunday Leg Day' ritual (though there are exceptions) or your high-intensity boot camp class in-studio. Reopened gyms have a host of requirements and mandates for both staff and members. In New York City, gyms may only fill up to 33 percent capacity. Studios remain closed for classes. And at Equinox, physical distancing of 6 – 10 feet is required at all times, whether in the locker rooms or the equipment floor. Mask requirements vary on a case-by-case basis. In most metropolitan areas (New York, Miami, Los Angeles, Toronto, Chicago, DC), members must wear a mask at all times, including while exercising. In Texas, Connecticut, and London, members may remove their mask while exercising only. A mask must be worn at all other times. (Notably in Vancouver, a mask is not required at all). Comfort aside, any serious gym-goer will agree that wearing a mask while exercising is not ideal. Even with sanitized equipment, high-end equipment and beautiful lounges, Equinox will need to work hard to recreate the enjoyable gym experience for its members.
All of this appears to be a deterrent. Per Thinknum:
But when gyms did begin to reopen earlier this summer, hopes that COVID would be a short-lived nightmare for fitness clubs almost instantly vanished. Nobody showed up. When we last wrote about gyms, 30 states had allowed gyms to reopen in some capacity, and things looked grim. Gym-goers were posting rabidly about their clubs and memberships once states began to lock down in March, but seemed to quickly forget about gyms altogether. Facebook Talking About counts were at an all-time low, while at-home fitness brands thrived off of quarantine.

The same has held true today. Even with 46 states allowing gyms to open, Talking About counts for some of the largest fitness clubs in the country like Gold's Gym, 24 Hour Fitness, Equinox, Crunch and LA Fitness have remained utterly stagnant for gyms and at-home fitness brands have continued to soar, signalling [sic] a broader shift towards working out at home. 
To keep their members engaged, gyms have been forced to think creatively, and Equinox is no exception. In mid-March, Equinox rolled out a new app called Variss, offering studio-produced instructional classes including strength training, yoga, HIIT, stretching, and guided running, as well as guided meditations for sleep and focus. The app also provides integration of SoulCycle spin classes with a stationary bike (bike sold separately, of course). However, it's not clear these virtual features will be enough to keep Equinox members paying their high fees. Even worse for Equinox is the growing existential threat of 'stay-at-home' fitness. Competitors such as Peloton Interactive Inc. ($PTON), Mirror ($LULU), and Tonal are hungrily circling Equinox's addressable market and announcing huge quarterly sales figures. (PETITION Note: Peloton annihilated expectations with a gangbusters earnings report last week that demonstrated a "pull-forward" of several quarters worth of growth. Meanwhile Lululemon announced that it closed its Mirror acquisition and that Mirror is already exceeding the upper bounds of revenue expectations).
This suggests the longer gyms stay closed or inconvenient to use, the more opportunities these stay-at-home upstarts have to sell gym-goers on new, potentially more convenient fitness habits.*
However, a virtual connection to your membership base is better than no connection at all, something gyms who lack the scale and funding of Equinox are likely unable to replicate. The lack of consistent, coherent policy is also doing zero favors for the little guys. On September 9th, CNN reported a group of more than 2,500 independent fitness studios filed a lawsuit against NYC Mayor Bill DeBlasio for barring them from reopening their businesses along with the rest of the city's gyms. Alliance members said NYC's current gym guidelines give large gym corporations such as Equinox a competitive advantage over smaller fitness studios, run mostly by small business owners. The impact from government mandated shutdowns on these small business owners is substantial. One owner commented that in a healthy market, her group of gyms generates roughly $15mm in revenue a year. Government shutdowns over the past few months have cost about $7mm in lost revenue. With revenue down nearly ~50% and no visibility on a bounceback, independent gym owners are in a fight for survival.
While COVID-19 has certainly stacked up the weight against Equinox, it's not impossible to believe the gym could weather the pandemic without having to restructure its balance sheet. Related Companies purchased Equinox in December 2005 for a reported $505mm, back when the budding gym brand had a mere 32 clubs. The transaction was financed with equity and two issues of senior notes, including $290mm of 9.25% senior notes issued by the OpCo, and $115mm of discount notes issued by Equinox's indirect parent. Since that time, Related's Chairman Stephen Ross has bet big in scaling the brand, and even sold a "significant minority investment" in the gym chain to private equity firm L Catterton in July 2017 (terms undisclosed). Further, the ~$1 billion 1st Lien term loan doesn't mature until March 2024, well beyond even the most pessimistic view of the pandemic impact.
Taking Equinox through Chapter 11 would likely wipe the value of Related's equity to zero, and Ross didn't get to where he is making foolish financial mistakes like that. A better strategy would be to find creative ways to minimize the business' cash burn while the entire industry waits for the pandemic to subside. Once the pandemic clears, membership should theoretically stabilize, and any customer disconnects can be aggressively re-marketed with signing perks or other upfront benefits. Anecdotal evidence indicates Related is already doing just that. However, instead of multi-billionaire Stephen Ross taking money out of his own pocket, it appears he would rather take those dollars by squeezing his employees. Buzzfeed reported in July that Equinox management has been asking its group fitness instructors to come back to the gym and teach classes at a discounted rate, roughly ~75% of their pre-COVID-19 rates. Instructors have also been asked to help clean the group fitness studios after classes, without additional pay, as part of an effort to more frequently deep-clean the studios. One Equinox instructor who discussed these internal policies on the record was subsequently let go.
Ultimately, many gym-goers may not feel comfortable working out in gyms until more clarity from health experts is provided. State government officials have so far independently set standards for their own jurisdictions, resulting in confusing and inconsistent policy across the nation. This policy is not helping gym operators nor their members. It is possible that gyms will not return to max capacity before a vaccine has been approved and disseminated. It is equally possible that the health concerns of gym-goers are above and beyond the average individual, and even post-vaccine, attendance will still remain lower than early 2020 levels. The health of the broader economy also plays an important factor. If the equity market correction resumes, or corporate layoffs accelerate, it is possible that even more Equinox members will look at their expensive gym bills not as a wellness necessity, but rather as just another frivolous, luxury item. If any of these scenarios prove out, fitness operators will face challenges which may require rationalizing their brick-and-mortar footprint, cutting staff, or raising incremental debt or equity capital to fund higher levels of cash burn. However, if the trajectory of the pandemic and the broader economy continues to improve, and Equinox survives the COVID-19 pandemic with its capital structure intact, the brand's stranglehold on the luxury gym market could make it an even stronger player going forward.
*Though there are questions of this being overblown. The survey below suggests that Peloton may not have as much room to move as the P/E multiple might otherwise suggest. Still, the survey was taken at a time when Peloton literally ceased marketing spend due to the backlog it currently has on order. Also, Peloton is one of few companies that reported plans to EXPAND its physical presence.

---
💪Can You Spot Me, Bro? Part IV.💪
What about LA Fitness International LLC?
Pricing on LA Fitness International LLC's paper reflects a lack of confidence by the investor community. The company's $675mm first lien term loan B due in 2025 sits in the high 50s and has been hit with a Caa3 rating by Moody's and a B- from S&P.
It, too, is a company worth watching.
---
📉Chart of the (Mid)Week 📉
This is a fairly small poll (500 millennials and 800 boomers) but it reflects a lot of skittishness about returning to gyms.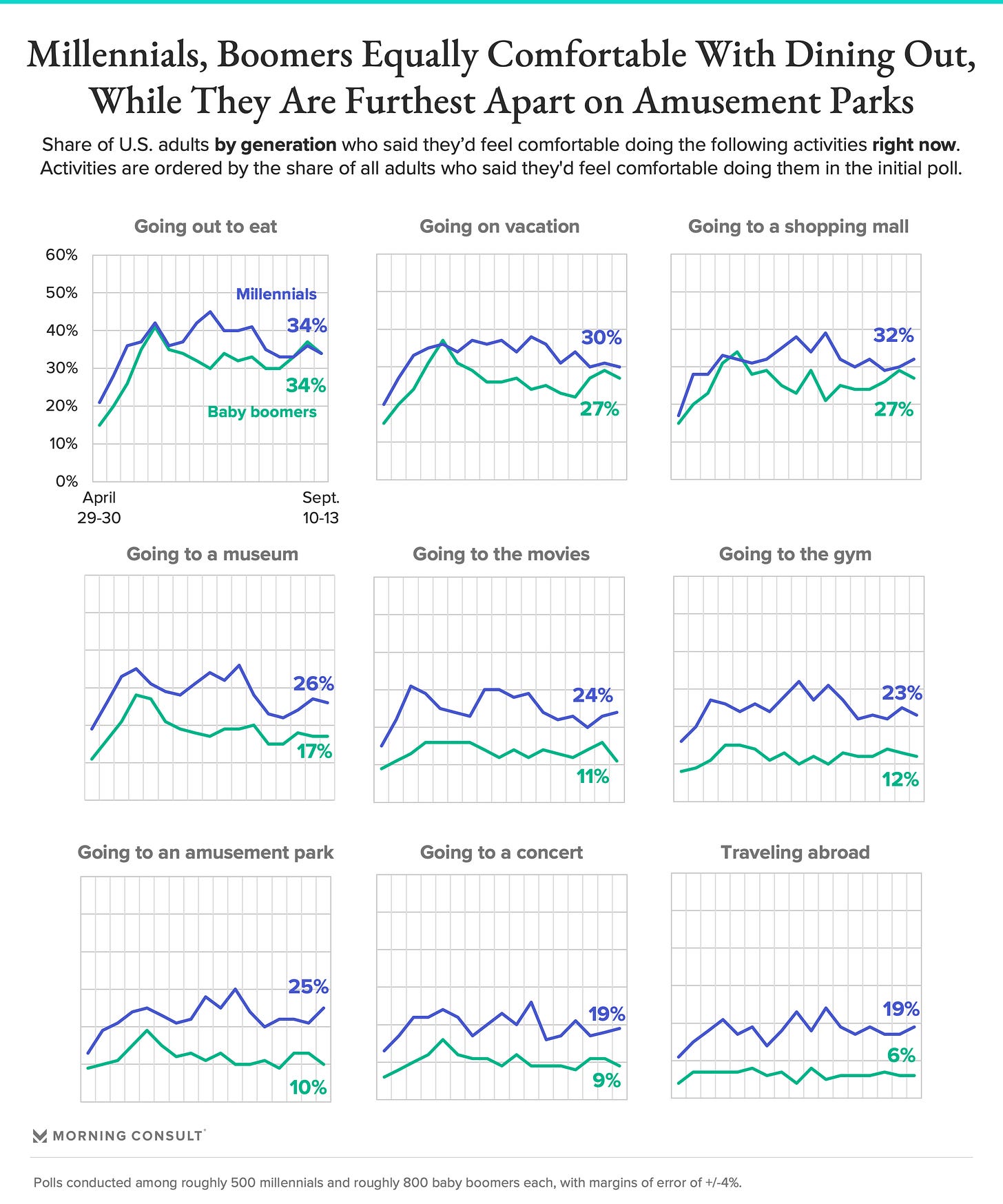 ---
📚Resources📚
We have updated our compilation of a$$-kicking resources covering restructuring, tech, finance, investing, economics and disruption. You can find the full compilation here.
---
📤Notice📤
Brett Weisenberg (Senior Counsel) joined Lowenstein Sandler LLP from Platinum Credit Management LP.
John Mitchell (Partner) joined Katten Muchin Rosenman LLP from Akerman LLP.
Jonathan Wernick (Senior Managing Director) joined B.Riley Advisory Services from Sherwood Partners Inc.
Michael O'Hara (Co-Head of US Restructuring & Managing Director) joined Jefferies from PJT Partners.
Rayan Joshi (Co-Founder, Head of Restructuring) on starting FourSixThree Capital LP after leaving, Marble Ridge Capital.
Terence Banich (Partner) joined Katten Muchin Rosenman LLP from Fox Rothschild LLP.
Rick Arrowsmith (Senior Managing Director) joined FTI Consulting Inc. from Alvarez & Marsal LLC.
🙌Congratulations to:🙌
Blackrock Inc's Jennifer O'Neil for getting some solid recognition from Bloomberg for her efforts in the Argentinian and Ecuadorian restructurings.
Judge David Jones for getting some solid recognition from The Houston Chronicle for "making Houston the most popular jurisdiction in the U.S. for complex, billion-dollar corporate restructurings."
---
💰New Opportunities💰
Hilco Streambank is seeking highly driven VP level candidates with restructuring experience to support our disposition team in New York. This person would help lead sale processes we run when our clients want to dispose of intangible assets such as brands, social media profiles, patents, and domains. Hilco Streambank is an advisory firm that provides intellectual property services and expertise at the intersection of intangible assets and corporate finance – identifying, preserving, and extracting value for clients through the application of experience, diligence, and creativity. For more information, please visit here or contact us at kdicecca@hilcostreambank.com.
Looking for quality people? PETITION lands in the inbox of 1000s of bankers, advisors, lawyers, investors and others every week. Email us at petition@petition11.com to learn about posting your opportunities with us.
---
Nothing in this email is intended to serve as financial or legal advice. Do your own research, you lazy rascals.