✈️ Airlines, Airlines, Airlines. Part II. ✈️
Chapter 11 bankruptcy filings have NOT been in short supply the last two months as COVID-19 starts to notch a long list of corporate victims. Yet while many of the debtors may cite COVID-19 as a factor leading to the bankruptcy filings, in the super-majority of cases it was merely a contributing factor. The icing on the cake, if you will. From our vantage point, prior to the last week, there had only been (arguably) four pure-play COVID-19 chapter 11 bankruptcy filings:
Those were just the appetizer. This week things got VERY, VERY, REAL. The Hertz Corporation ($HTZ) became one of the largest chapter 11 bankruptcy filings EVER because COVID-19 put a stop to air travel — the thing that HTZ is most dependent upon in its business. This caused used-car values to fall through the floor and, in turn, effectively blow up the company's securitization structure.* And then LATAM Airlines Group S.A. ($LTM) became the second large Latin American airline to file. This should not have been a surprise to anyone.
On May 13 in "✈️ Airlines, Airlines, Airlines ✈️ ," we wrote about (i) the airline bailout debate engulfing folks in the US, (ii) the Avianca bankruptcy filing, (iii) Virgin Australia's voluntary administration filing in Australia (after the Aussie government refused to partake in a bailout), (iv) Norway's attempts to deal with Norwegian Air Shuttle SA's ($NWARF) troubles, and (v) Boeing Corporation ($BA) CEO Dave Calhoun's flippant remarks that "it's probable that a major [US] carrier will go out of business" — yet another example of people confusing the concepts "filing for chapter 11 bankruptcy" with "going out of business and disappearing from the face of the earth."** For the avoidance of doubt, no, they are not necessarily the same thing (outside of retail anyway). In what was not exactly our boldest call, we noted that there would be more COVID-19-spawned airline action to come — particularly, in the near-term, in Latin America:
Here is Bloomberg suggesting that, due to sovereign issues throughout Latin America, other Latin American airlines are in trouble. In the piece published before Avianca's chapter 11 filing, they noted:

But while just about everyone agrees it will be up to governments to help save the industry, there's a disconnect between what's needed and what nations can -- or even want to -- do. Brazil and Colombia seem willing to step up; Mexico and Chile don't. Latin America was already the lowest-growth major region in the world and budgets were stretched thin even before oil collapsed and the coronavirus crippled the global economy.

As we now know, Colombia didn't step up. Which leaves Latin America's other air carriers in a bad spot, including Latam Airlines Group SA (the finance unit of which has debt bid in the 30s and 40s), Gol Linhas Aereas Inteligentes SA ($GOL)(the finance unit of which has debt bid in the low 40s), and Aerovías de México SA de CV (Aeromexico)(which has debt bid in the 30s). Will one of these be one of the next airlines in bankruptcy court?
Early in the morning on May 26th, LATAM Airlines Group SA ("LATAM Parent," and with 28 direct or indirect subsidiary debtors, the "Debtors") filed for bankruptcy in the Southern District of New York. The company is the fourteenth-largest airline in the world (measured by passengers carried) and Latin America's leading airline; it services 145 different destinations in 26 countries. Including 20 aircraft leased to non-debtor third-parties, the company has a total fleet of 340 aircraft.

On the strength of this fleet, in 2019, the company did $10.1b in revenue with over $1b of operating cash flow after investments (for the third straight year) and $195.6mm of net income. While the majority of said revenue comes from passenger services, the company also supplements revenues with cargo-related services to 151 destinations in 29 countries (11% of revenue but growing quickly). With four consecutive years of net profits, the company was, as far as airline companies go, doing very well — particularly in Brazil (38% revenue), Chile (16%) and the United States (10%).
Contributing to the positive performance trend is the fact that the company has apparently been executing its business plan quite well. It has rejiggered its cost structure; established new routes; reduced fleet commitments; and upgraded operational execution and customer experience (including the implementation of a frequent flyer program).*** Improved operational performance gave the company flexibility in other parts of the business. Notably, the company decreased leverage by $2b — dropping its leverage ratio from 5.8x to 4x. It also reduced its capital fleet commitments by $6.3b from 2015 to 2019. Everything was going in the right direction.
But then COVID-19 caused a 95% reduction in LATAM's passenger service. All of the business plan execution in the world couldn't have prepared the company for such a meaningful drop off. To state the obvious, this created an immediate liquidity strain on the business and instantly called the Debtors' capital structure into question. To address the liquidity situation, the Debtors drew down the entirety of their secured revolving credit facility giving them $707mm total cash on hand (plus another $621 held by non-debtor affiliates). Here is the rest of the Debtors' largely unsecured capital structure:

The rubber is going to meet the runway with a lot of the aircraft leases. The finance leases are all entered into by special purpose vehicles ("SPVs") which then lease the planes to LATAM Parent which then subleases the aircraft to other opcos including certain of the Debtors. The SPVs finance the acquisition of aircrafts through various banks, pledging the owned aircraft as collateral. The principal amount outstanding under the various SPV financings is $3.3b.
Meanwhile, the operating leases are entered into with third-party lessors like AerCap Holdings N.V. ($AER), Aircastle Holding Corporation Limited and Avolon Aerospace Leasing Ltd. The Debtors have negotiated rent deferrals with these parties but, generally, they pay $44mm/month in rent and, all in, have $2.9b in aircraft-related lease liabilities.
Similarly, certain aircraft purchase agreements are likely to be grounded. The company has agreements to purchase 44 aircraft from Airbus S.E. ($EADSY) and 7 aircraft from Boeing Co. ($BA).
The Debtors seem primed to leverage certain bankruptcy tools here. First and foremost is deploying the contract rejection powers of bankruptcy code section 365 to right-size the fleet, which means a lot of the aforementioned agreements will be (or are likely to be) on the chopping block. Indeed, the Debtors have already filed a motion seeking to reject around 19 of them.

Two significant shareholders have agreed to fund $900mm of super-priority DIP financing which will be part of a larger $2.15b DIP Facility (PETITION Note: reminder that Avianca has not sought approval of a DIP credit facility…yet). Given that many Latin American countries have suspended air travel for months (i.e., Argentina through September, Colombia through August) and the US recently announced it would deny entry to non-citizens from Brazil, the Debtors will need this financing to complement the cash already on hand to stay afloat.
Like Hertz and Avianca, it looks like this one will linger in bankruptcy court for awhile as all of the various parties in interest try to figure out what a business plan looks like in a post-COVID world.
***Notably, the company brags that it was able to "
…increase available seat kilometers (or ASKs, used to measure an airline's carrying capacity) by approximately 11%…
" which, in turn, contributed to an increase in passengers carried from 68mm to 74mm per year and increased its operational margin from 5% to 7%. This is confirmation of what we already knew: to juice revenues airlines have been engaging in sardine-packing experiment, squeezing as many passengers into a flight as possible. And it worked! Query, however, what will happen to ASKs in a post-COVID-19 world. 🤔
---
🍩Get Amped for that Pool Party Bro (Short BDC Portfolio Companies)🍩
People are getting worried about the lower-to-middle-market loans sitting on the books of business development companies (BDCs). Here is a Bloomberg piece from last week:
Business development companies, the most visible pocket of the $800 billion private credit market, face more dividend cuts and possibly even restructurings later this year after the Covid-19 pandemic has bruised their portfolios.

The companies this month released results for the quarter ended March 31, and the industry saw steep drop-offs in the value of investments and other headwinds caused by the new coronavirus.
By "steep drop-offs" they mean a meaningful uptick in loans marked on the books as "non-accrual."
The economy may be opening back up but some of the loans on BDC balance sheets are so inextricably tied to C19 that they may not be able to recover. And so you've got distressed Inception here. Distress within distress: a number of portfolio companies may end up in bankruptcy court and, by extension, certain BDCs may struggle in and of themselves.
Take Souplantation and Sweet Tomatoes for instance. Both restaurant chains operate under the Garden FreshRestaurant Corp. umbrella that previously filed for chapter 11 bankruptcy in 2016. Now it's definitively toast. Apparently the buffet concept may not thrive going forward. We wonder why. 🤔 Garden Fresh's first lien term loan was dumped to non-accrual by both Ares Capital Corporation($ARCC) and Apollo Investment Corporation ($AINV).
Similarly, Capitala Finance Corp. ($CPTA), Oaktree Specialty Lending Corp. ($OCSL) and Monroe Capital Corporation ($MRCC) both demerited California Pizza Kitchen. It may be headed to bankruptcy court sometime soon. Remember: it was tough for casual dining pre-COVID!
There are other trouble spots spread throughout BDC portfolios.
Take Connecticut-based Big Mouth Inc. for instance. We love this one. The designer and manufacturer of "outrageous lifestyle products" is probably best known for its pool inflatables including gigantic floating donuts and pool party beer pong floats. Their inflatables are versatile: they often feature prominently as those annoying things that bop you in the head just as you're trying to sip your hard-earned-waiting-in-line-for-an-hour beer at Lollapalooza.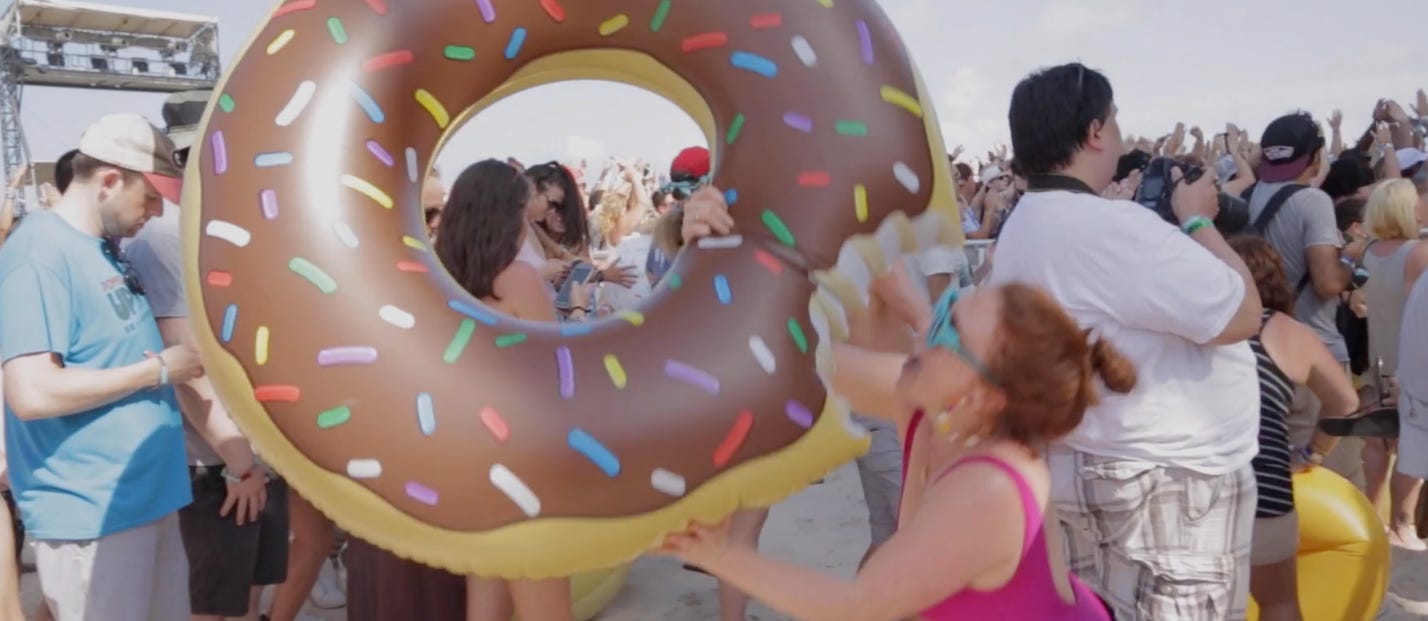 Except…there is no Lollapalooza this year. Or any music festivals for that matter. Pool parties won't be transpiring as much this summer either — well, aside from the Ozarks, maybe. Consequently, Capitala Finance Corp. placed the company's first 10% lien loan due late 2021 on non-accrual.
Then there's Production Resource Group. The company rents equipment, labor and production management services to end users in sports, live TV, music and film, among other entertainment end-markets. If you need video tech, audio tech, live broadcast tech, lighting, etc., these guys can get you set up. Of course, none of that sh*t is happening right now and so Ares Capital Corporation designated the company's first lien senior secured loan maturing in August 2024 on non-accrual as of 3/31/20. If this sucker has to file for bankruptcy it will have some experience to lean on: it purchased VER Technologies out of bankruptcy in 2018. Query whether they're regretting it. 🤔
---
💵 Bull...Bear...Who Cares?* 💵
What's the one thing that elite investors do that you probably don't? They invest in art. From Ken Griffith spending $300mm on a de Kooning to Steve Cohen's $91mm metal bunny—the titans of Wall Street play to win and they aren't pulling punches.
Don't just call it a hobby, either—art has been one of the best performing-asset classes of the last 20 years, outperforming the S&P by over 180% according to industry benchmark Artprice. Beyond that, the art market is expected to grow $900b over the next six years thanks to companies like Masterworks. They make investing in the world's most exclusive asset as easy as buying stocks online.
Since launching last year, there's currently a waitlist of over 25,000 people. But PETITION readers can skip the line and get in on the action today.
*Sponsored content.
---
💰How are the Investment Banks Doing? ($RILY)💰
B. Riley Financial Inc. ($RILY) reported Q1 earnings two weeks ago that reflected quarterly operating revenues of $182.2mm and operating adjusted EBITDA of $70.9mm — both up YOY from $116.3mm and $18.9mm, respectively (though, sequentially, growth in adjusted EBITDA paled in comparison to Q4 numbers). This was a quarterly record for operating revenue.
The firm experienced strength in its financial services segment but its investment portfolio really sh*t the bed with unrealized marked losses of $182.4mm, totally offsetting operating revenue. Yikes.
Anyway, here's what they had to say about Great American Group, the firm's liquidator business:
…our Auction and Liquidation segment generated $20.7 million in revenue and segment income of $4.3 million for the first quarter. This compares to $20.7 million and segment income of $11.5 million for the same prior year period. Our liquidation segment results vary from quarter-to-quarter and year-to-year due to the episodic impact of large-scale retail liquidation engagements.
While that segment income differential is … uh … interesting … it's at least promising that the firm is moving on past the pain they inflicted from the Barney's debacle. They note:
Year-to-date, we have participated in about 590 store closings involving over $1 billion of retail inventory. This includes a number of ongoing and new liquidation projects with returning clients. While projects related to nonessential retailers paused in March, we continue to work with several retailers to navigate the new challenges being created by the current market environment. Real estate consolidation and purging excess inventory have remained a key focus. But as the effects of COVID-19 accelerate the financial distress across retail, we anticipate there will be several more opportunities on the horizon. As we return to some normalcy, we expect liquidation activity to resume with a robust pipeline of new business opportunities through year-end. (emphasis added).
That may be quite an understatement. 18,785,749% of retailers look troubled.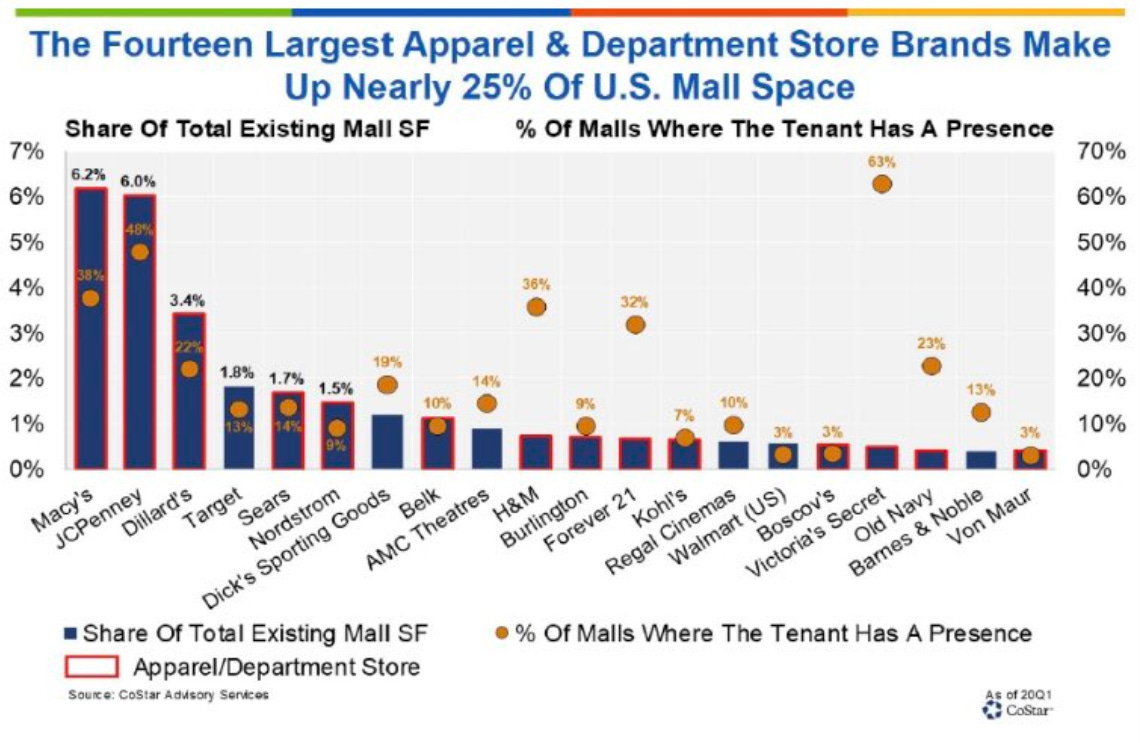 RILY is looking to capture more of this opportunity too:
During the quarter, we enhanced our real estate offering by onboarding a team of veteran professionals, who, among other things, specialize in real estate disposition and lease restructuring. While this new team has only been with us for a few short months, they have already signed a number of new engagements, including a project involving a large retailer.
We now know who this "large retailer" is: J.C. Penney.
One question that hangs out there, however, is how will these guys generate fees on the liquidation side given the current environment. Management addresses this issue:
I think we're seeing some signs of a more fee-based environment as opposed to an equity environment. And what I mean by that is I think liquidators, for the most part, are going to be a little hesitant to purchase all of the equity of an estate and take the risk of an estate. So I think what you'll see is more some sort of percentage of recovery and maybe some upside to that.
This is something to keep an eye on.
---
🔥Tweets of the Week🔥
Is anyone betting on brick-and-mortar retail right now? This chart shows that e-commerce enjoyed 10 years worth of growth in the eight weeks of COVID shutdown. That's mind-boggling.
These are scary numbers:
And yet the coverage universe of stressed and distressed names has decreased in recent weeks:
---
📚Resources📚
We have compiled a list of a$$-kicking resources on the topics of restructuring, tech, finance, investing, and disruption. 💥You can find it here💥. We've added "No Filter: The Inside Story of Instagram," which is next up on our "To-Read" list.
---
📤Notice📤
Kristina Wesch (Partner) joined Herrick Feinstein LLP from Farrell Fritz PC.
Thora Thoroddsen (Director) joined AlixPartners from RGP.
🙌Congratulations to:🙌
Monarch Alternative Capital for raising $455 million for its fifth fund.
---
💰New Opportunities💰
PETITION is looking for some help. We are seeking someone with financial modeling chops to help us add an additional layer to our analysis. Strong writing, attention to detail, and high motivation are key. We work (and have always worked) remotely: you can do this gig from a beach so long as you have a solid wifi connection for all we care. In addition to helping us with research and content production, there are other avenues we could use help with if you're willing and able to expand beyond just research and writing: happy to discuss. If you're interested, please email us your resume at petition@petition11.com.
Restructuring Candidate. A seasoned management professional with significant experience in restructuring, is looking to return to the industry to help advise distressed situations on a full time or contract basis. Strong focus on technology, media and telecommunications (TMT), as well as financial modeling, operations, strategic analysis and technology related disruption. BS/EE Caltech with MBA and post-grad degree in Machine Learning and Artificial Intelligence from Columbia University. For more information, please contact us at petition@petition11.com.
Looking for quality people? PETITION lands in the inbox of 1000s of bankers, advisors, lawyers, investors and others every week. Email us at petition@petition11.com to learn about posting your opportunities with us.
---
Nothing in this email is intended to serve as financial or legal advice. Do your own research, you lazy rascals.